Northern Plains, Plateaus and Desert
UPSC Past papers
Northern Plains, Plateaus and Desert
NORTHERN PLAINS
• They are formed by alluvial deposits brought by rivers – Indus, Ganga, Brahmaputra.
• The Northern Plains extend 3200 km from east to west in Indian Physiography.
• The Maximum depth of alluvium deposits varies from 1000-2000 m., it is 2400 km long & varying in width from 240 to approx. 320 km.
• One of the largest, continuous and extensive plains
• Fertile plain- flat topography -historically settled –dense population
• 30% of the world's population on 10% of world's agro-land.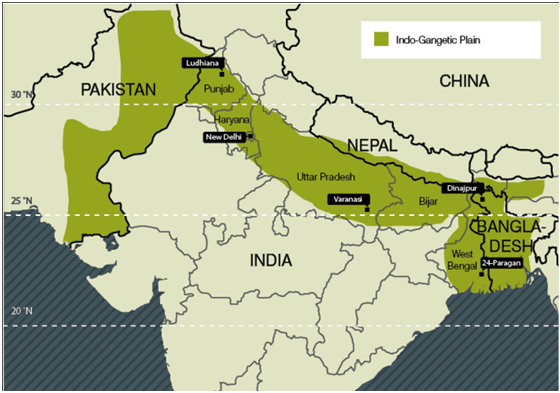 a) Northern plains subdivision
– Bhabhar : (narrow belt parallel to Shiwalik foothills at slope break-up),
• Lies along foothills of Shiwaliks, From Indus to Tista
• Laid down by streams coming from hills
• Comprises of pebble studded rocks (Highly porous bed plain)
• Due to high porosity and permiablity- streams, rivers disappears here
• Alluvial fans of Himalayan rivers – coarse depo – large boulders
• Not good for cultivation
b) Tarai : (narrow belt parallel to Shiwalik foothills at slope break-up),
• Lies south of Bhabhar & runs parallel to it
• Marked by re-emergence of underground streams of Bhabhar belt
• Highly alluvial & agricultural land
• Has a high water table due to groundwater percolating down from the adjacent zone
• Bad drainage
• Rivers re-appears –swamps, marshy
• Naturally Sal forest
• Terai of Bengal and Bihar is more developed
• The region is excessively moist and thickly forested. It also receives heavy rainfall throughout the year and is populated with a variety of wildlife.
• The Terai tract lies south of the Bhabar belt. The tract is marshy and lots of mosquitoes thrive there. The Terai belt is wider in eastern side especially in the Brahmaputra valley.
• The high rainfall, newer alluvium makes it excessive damp and lots of forests are found here. This implies that Terai belt is rich in biodiversity.
• Over the period of time, the forests have been cleared in various states such as Uttarakhand, Uttar Pradesh, Haryana, Punjab, and Jammu Divisions for cultivation of crops.
• Terai belt is known for the good cultivation of sugar-cane, rice, wheat, maize, oilseeds, pulses, and fodder.
c) Khadar:
• Flood plains with newer and fresh alluvium deposited by flood and rivers almost every year
• Marked with fertile soil
• Zone of intensive agriculture
• Non porous, clayey and loamy
• Slope between Bangar and Khadar: Punjab- 'Dhayas', UP- 'Khol', Bengal – 'Bhils', Bihar –'Taal'.
• The Khadar land consists of sand, silt, clay and mud.
• After Independence, most of the Khadar land has been brought under cultivation and devoted to sugarcane, rice, wheat, maize, oilseeds, legumes, and fodder crops.
d) Bhangar:
• Alluvial terrace lying above the level of flood plains
• Composed of the oldest alluvial soil
• Coarse in nature, contain kankar (lime nodules), pebbles, gravels
• Soil of this region is locally known as kankar viz. calcareous concretions
• Old flood plains of rivers – Dry land
• The older alluvium soil is dark in colour, rich in humus content and productive.
• Bhangar is generally a well drained and the most productive land of the Great Plains of India.
e) Delta Plain:
• The deltaic plain is an extension of the Khadar land.
• It covers about 1.9 lakh sq km of area in the lower reaches of the Ganga River.
• It is an area of deposition as the river flows in this tract sluggishly.
• The deltaic plain consists mainly of old mud, new mud and marsh.
• In the delta region, the uplands are called 'Char' while marshy areas are known as 'Bili.
• The delta of Ganga being an active one, is extending towards the Bay of Bengal.
Alluvial plains (located to the south of Tarai, mature stage of fluvial erosional and depositional landforms like sand bars, meanders. It is divided into Khadar and Bhangar).
• East-west division of plains:

– Rajasthan Plains (Indus): West of Aravalli, North- Gangasagar region, Extension of Punjab plains of Indus, West of Aravalli-Rajasthan Bagar, Drained by river Luni, Luni merged into Rann of Kutchh. Rajasthan Bagar: fluvial grasslands –Rajasthan steppe, Very fertile –Rohi tracts, Western most Rajasthan- marusthali/ Thar desert– sand dunes 'Dhrians'.
– Punjab plains (Indus): Fluvial plains –Ravi, Beas and Sutlej (tributaries of Indus), Khadar plains: fertile but limitations, Aridity, Basin topography (bad drainage) – salination.]
– Gangetic plains:
Divisions:
• Upper Gangetic plains- From Yamuna to Ghaghara plains, Rohilkhand plain, Sandy deposits.
• Middle Gangetic plains- Kosi plain-called Magadh / Awadh /Anga plain, Flood-prone, shifting of river course of Kosi.
• Lower Gangetic plains- Ganga enters WB-Sundarban delta, Lowland-almost sea level, Sagar Island, Lothian Island, Bengal tigers are belongs from this area.
– Assam plains (Brahmaputra): Brahmaputra largest river of India (volume), Origin Mansarovar lake- enters as Dihang in Arunachal Pradesh, River course narrow- numerous stream flows -flood prone. Streams from north –swift flowing – form alluvial fans, Manas- Subansiri, Streams from south plateu –smooth flowing- Dibang, Lohit, Dhansiri, Kapilli.
Natural hazard and disaster
• The Indo-Gangetic Zone of earthquake prone belt runs parallel to the Himalayan Zone on its southern side.
• The earthquakes along the foothills are of medium to high intensity.
• However, the earthquakes of this zone are more harmful due to high density of population in this area.
• In the Great plains some districts of Rajasthan and Uttar Pradesh receiving rainfall less than 75 to 80 cm of rainfall with variability over 40 per cent are prone to draught.
• However, the severest draught have occurred in comparatively wet areas such as Bihar and west Bengal, where rainfall is normally enough to allow high density of population and where failure of rainfall can affect millions of people.
• Being a plain area and drained by various big and small rivers often breaching their limiting banks during the season of high discharge, this area is frequently hit by floods.
Importance of Great Plains
• The Indo-Gangetic belt is the world's most extensive expanse of uninterrupted alluvium formed by the deposition of silt by the numerous rivers.
• The plains are flat and mostly treeless, making it conducive for irrigation through canals. The area is also rich in ground water sources.
• The plains are the world's most intensely farmed areas. Fertile alluvial soils, flat surface, slow moving perennial rivers and favourable climate facilitate an intense agricultural activity.
• The main crops grown are rice and wheat, which are grown in rotation. Others include maize, sugarcane and cotton. The extensive use of irrigation has made Punjab, Haryana and western part of Uttar Pradesh the granary of India (Prairies are called the granaries of the world).
• The Indo-Gangetic plains rank among the world's most densely populated areas.
• The Great Plains of India are covered with one of the most productive soils of the world.
• Its soils have the capacity to grow any crop of the tropical and temperate regions.
• The sedimentary rocks of plains have petroleum and natural gas deposits.
• The rivers here have very gentle gradients which make them navigable over long distances.
• The plains are often termed as the 'Granary of India'. Most of the rivers traversing the Northern Plains of India are perennial in nature.
• A number of canals have been carved out of these rivers which make agriculture more remunerative and sustainable.
• The water table is high and suitable for tube well irrigation. The gentle gradient makes it navigable over long distances.
• Cultural tourism: Several sacred places and centres of pilgrimage are situated in these plains e.g. Haridwar, Amritsar, Varanasi, Allahabad, Bodh Gaya, etc.
THE PENISULAR PLATEAU
• The peninsular plateau of India is roughly triangular in shape with base coinciding with the southern edge of the great Northern plains and its apex is formed by Kanyakumari in south.
• The northern boundary of the peninsular block is an irregular line running from Kutch along the western flank of Aravalis to near Delhi, and then roughly parallel to the Yamuna and Ganga as far as Rajmahal hills and then Ganga delta.
• The Western Ghats and the Eastern Ghats form its western and eastern boundaries respectively in South. The entire plateau measures about 1600 km. in north-south and 1400 km. in east west direction.
• It covers about half of the total area of the country. It is the largest physiographic unit of India.
• The average height of the plateau is about 600 to 900 m above MSL.
• Largest of India's physical divisions – Comprises of broad & shallow valleys with rounded hills
• This Triangular shape plateau; composed of the oldest rocks & Surrounded by hills.
• Narmada – Tapi divides it into 2 parts viz. Central highland & Deccan plateau.
• The general slope of the plateau is from west to east with the exception of Narmada-Tapi rift which slopes westwards.
DIVISION OF THE PENISUALR PLATEAU:
A. The Central Highlands
• Lies to the north of the Narmada river between Aravali in North & Vindhya range in south.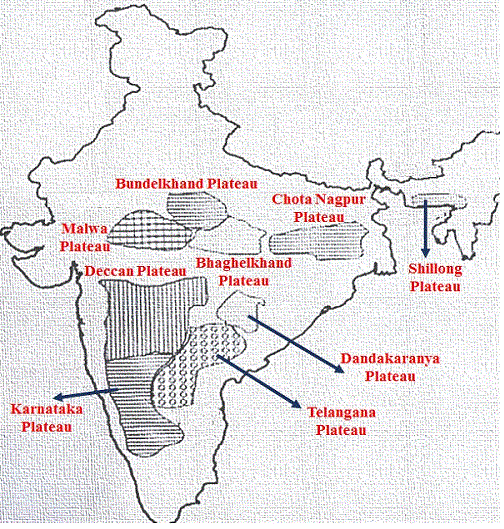 – Covers the major portion of the Malwa plateau (Madhya Pradesh)
– Rivers in this region flow from southwest to northeast; which indicates the slope of this region
– Further extension of it is Bundelkhand, Bhaghelkhand & Chhota Nagpur Plateau
– Chambal & Betwa flows through it '! Region known as Bed land (Not fit for cultivation)
a) Malwa Plateau:
• Lies in Madhya Pradesh b/w Aravali & Vindhyas
• Extension of it is Bundelkhand, Bhaghelkhand & Chota Nagpur Plateau
b) Bundelkhand Plateau:
• Lies along the borders of UP & MP
• Has been transformed into ravines by extensive erosional activities of river Chambal & its tributaries.
c) Chhotanagpur Plateau:
• NE part of peninsular plateau
• Includes Jharkhand, parts of Chhattisgarh & WB,
• Highest Peak Parasnath
• Famous as Patland plateau & known as ruhr of India.
B. Deccan Plateau
• Largest plateau in India; Lies to the south of the Narmada River; Shaped as inverted triangle.
• Surrounded by Satpura hills, Mahadeo hills, Maikala range, Amarkantak hills and Rajmahal hills, the north; Western Ghats in the west and the Eastern Ghats in the east
• Volcanic in origin, made up of horizontal layers of solidified lava forming trap structure with step like appearance
• Sedimentary layers are also found in between the layers of solidified lava, making it inter-trapping in structure
• Average elevation of Western Ghats is 900 – 1600 metres; compared to 600 metres of Eastern Ghats
• Slopes towards east and south and descends abruptly towards west making sahayadri ranges
• The plateau is suitable for the cultivation of cotton; home to rich mineral resources & a source to generate hydroelectric power.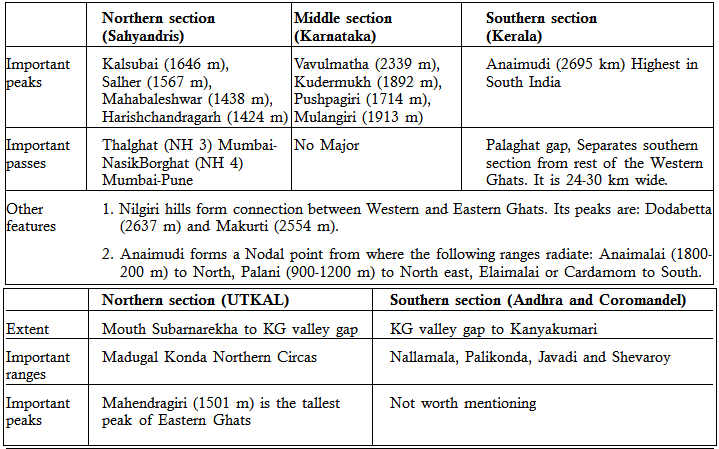 Western Ghats
• Folded parts of Deccan Plateau
• Also known as Shayadries
• More Continuous & higher than Eastern Ghats
• Separated from coast by narrow coastal plains
• Rich watersheds give birth to large peninsular rivers like Godavari and Krishna
• Extends from Tapi in North to Kanyakumari in south.
Maharashtra Plateau:
• Deccan trap topography, almost entirely covered by lack cotton soil called regur.
• Broad and shallow valleys of river: Godavari, Krishna, Bhima, Wainganga- Painganga-wardha system.
• Bounded by sahyandris on west, Satpuda on north comprises Ajanta range, Balghat range, Harishchandra range, Satmala hills (Chikhaldara-on Gawaligarh hills).


Eastern Ghats
• Extends from Odisha to North of Nilgiri hills
• Discontinuous & lower then Western Ghats
• Do not give birth to important rivers like western ghats
• Separated from coast by very wide coastal plains
• Geologically older than western ghats
• Mahanadi, Godavari, Krishna, Kaveri cut through this range to merge with Bay of Bengal
• The Western Ghats and the Eastern Ghats meet in the Nilgiri hills
Telangana Plateau
• Part of deccan plateau
• Located on north of river Krishna
Karnataka Plateau
• South of deccan lava region
• Consist of Bababudan hills
• Famous for iron ores
Dandakaranya Plateau
• Forms parts of Chhatisgarh & Odisha
• Contains igneous & metamorphic rocks of Archaen period
• River Indravati & Mahandi flows through this plateau
• Largely inhabited by Gond tribes
Shillong Plateau/Meghalaya plauteau:
• Separated from the peninsular plateau block by a wide gap called Garo-Rajmahal Gap formed due to down faulting which was later filled up by Ganga deposits.
• Western-central and eastern parts are known as the Garo(900m.), Khasi-Jaintia( 1500m), Mikir (700m) hills.
• Shillong is the highest point of the plateau at 1961m on khasi hills tableland.
• Part of Peninsular Deccan Plateau
• World's highest rainfall receiving point Mawsynram is situated here.
Importance of the Peninsular Plateau Region
• Ancient and stable landmass
• Mineral storehouse of India, -Iron, Manganese, Copper, Bauxite, Mica, Gold, etc.
• 98% of Gondwana coal deposits come from PP region.
• Rocks: Slate, Shale, Granite, Marble.
• Black cotton soil.
• Western Ghats: cause of SW monsoon rainfall.
• Tourism: Hills Stations- Ooty, Mahabaleshwar, Pachmarhi, Matheran, Khandala.
• Forest and forest products.


THE GREAT INDIAN DESERT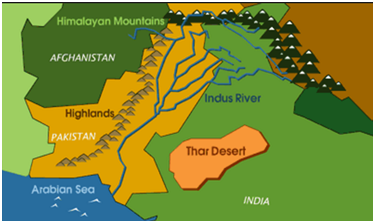 • Extends from the western margins of the Aravali Hills
• Sometimes considered a part of the peninsular plateaus.
• Oldest Fold Mountains of the world-long period of erosion, therefore also called relict mountains. Stretch 800 km. elevation; 300-900 m, highest peak: Guru shikhar, (near mt. Abu 1722 km.)
• Some part fairly rich in minerals. One branch of the Aravali extend to the Lakshadweep through Gulf of Khambat.
• Important rivers originating through desert:
– Sabarmati and Lluni- Luni is the only prominent river ( flow in west direction)
– Ahmedabad situated on the banks of Sabarmati and Vadodara on Mahi sagar river.
• Dry N-W part- Thar Desert, Great Indian Desert.
– It extends to Pakistan and dominated by shifting sand dunes, area of inland drainage.
• Important lakes:
Deewdana, Sambar(important for salt production)
• Minerals- Gypsum, Marble, Zinc, Lead, Copper, Mica