Modern Indian History: 1937 : Titles of Some Important Leaders
UPSC
Abdul Gaffar Kahn
Frontier Gandhi, Badshah
Khan
Bal Gangadhar Tilak
Lokmanya
C.F. Andrew
Dinbandhu
C.R. Das
Deshbandhu
C. Rajagopalachari
Rajaji
Chatherine Mary Heilaman
Meera Behn
Dada Bhai Nauroji
Grand Old Man
Goapal Hari Deshmukh
Lokhitwadi
J.B. Kriplani
Acharya
Jatin Mukherjee
Bagha Jatin
Lala Lajpat Rai
Sher-i-Punjab
Lala Munshi Ram
Swami Shradhanand
Lord Ripon
Ripon, the Popular
M.K. Gandhi
Mahatma, (Given by R.N.
Tagore) Bapu
Margaret Noble
Sister Nivedita
Narendra Nath Dutt
Swami Vivekanand
Rabindra Nath Tagore
Gurudeo
Raja Ram Mohan Roy
First Modern Man
Sarojini Naidu
Bharat Kokila
Subhash Chadra Bose
Netaji
Vallabhai Patel
Sardar, Iron Man
Miscellaneous
Foreign Accounts (Chronologically)
Herodotu's Accounts - Greek (454-425 BC) (He is known as father of History).
Ctesia's Accounts - Greek (416-398) Clesiar of Ktesias was a physician.
Periplus of the Erythrean Sea - Greek - By a Greek sailor who made a voyage to the Indian coast about A.d. He left a record of Indian ports, Harbours and merchandise - Erythraean Sea. Description of trade in Indian Ocean, Arabian Sea and Red Sea.
National History - Latin - Pliny - In first century A.D. - He wrote about Indian animals, plants and minerals.
Georaphy - Greek - By Ptolemy - written in Second Century AD on scientific times - He gave the shape of India (like a kite).
Geography - By Strabo - Written in Greek.
Accounts of Cosmas - Indicopleustes - Wrote about Mihirkula.
Fo-Kwo-Ki (Travels of Fahien) - Fahien.
Si-yu-ki (Buddhist Records of the Western World) - Hiuen Tsang - He refers to Mihirkula.
Life of Hiuen Tsang - Hwuili.
Facts about Coinage
Coins were introduced in India in 500 BC.
These early coins were known as Punch-marked coins bearing only a variety of symbols.
Indo-Greeks were first to introduce gold coins-they also initiated the practice of issuing billignual coins-they were also first to issue coins which could be attributed to particular kings with certainly.
Portrait-coinage was introduced by Indo-Greeks.
Kushans issued the purest gold coins.
Kadaphises I (Kushana) issued gold coins which bore the images of Shiva and Nandi bull.
Satvahanas issued coins in four metals: silver, copper, potin, and lead (the last one being predominant).
The Guptas issued the largest number of gold coins.
Gold coins of Md. Ghauri bore the image of goddess Kali / Lakshmi on obverse and the name of the ruler in Nagari script on reverse.
Md. Bin Tughlaq introduced token currency of brass and copper on the model of Chinese currency CHAO (in paper and silk).
Akbar's gold mohur bore the figures of Sita and Ram was called Jallai
The coins of Harihara I & Bukka I bore the image of Hanuman like the coins of Kadamba dynasty.
The coins of Krishnadevaraya bore the images of Venkatesh and Balakrishna.
Various Coin Types
Dam

Chief copper coin weighing 323 grain introduced by Shershah and continued by Mughals, 40 Dams was equal to 1 rupee

Jittal
Copper coin of Sultanate period.
Kakini

Copper coin weighing 2.25 grain, Popular during the Maurya period.

Karspana
Early coin type, the most popular one, made of gold, solver, copper and lead.
Nishka
Gold ornaments used as medium of exchange.
Pana
Silver coin of early period weighing 57.8 grain. Popular during the Mauryas.
Rupaka
Silver coin of the Guptas weighin 32 of 36 grain.
Rupaya
Silver coin weighin 170 grain introduced by Shershah and continued up till the advent of European powers.
Tanka
Standard silver coin of Sultanate period weighin 175 grains and equivalent to 64 jittal. Introduced by Iltutmish .
Varaha
Gold coin of Vijana gara rulers weighed 52 grain, and was called pagoda by oreigners particularly Portuguese, Also known as Hun and Panam.
Cities/Towns
Founders
Jodhpur
Rao Jodha or Marwar
Jaunpur
Firoz Tughlaq (on the site of Jamanpur) named after Jauna Khan (Md. Tughlaq).
Hyderabad
Md. Quli, 1590, a new capital of Qutub Shahi kingdom of Golkunda
Ahmedabad
Ahmed Shah of Gujarat, on the side ot the old town Asawal
Mustaphabad
Mahmud Begarha
Muhammadabad
Mahmud Bergaha
Delhi/Dhilika
Tomaras, middle of 11th century, Angapal
Firojabad / Kotla shah
Firoz Shah Tughlaq
Shahjehanabad
Shahjahan
Fatehpur Sikri
Akbar
Mahabalipuram
Nasimhavarman
I, Mahamallu
Bikaner
Bika (Son of Bodha)
Fatehabad
Firoz Shah Tughlaq
Hissar
Firoz Shah Tughlaq
Patliputra
Udayin
Jaipur
Raja Swai Jai Singh
Amritsar
Guru Ramdas (3rd Guru)
Srinagar
Ashoka
Gangaikondach

Puram
Rajendra of Chola dynasty
Ajmer
Ajayraja (Chauhans)

Agra
Sikander Lodi

Hushangabad
Hushang Shah
Nauraspur
Ibrahim Adil Shah II
Vijaynagara / Vidyanagara

Harihara I and Bukka I
Calcutta
Job Charnok
Rai Pithora
Prithviraj Chauhan
Tughlaqabad
Ghisuddin Tughlaq
Adilabad
Md. Bin Tughlaq
Jahapanah
Md. Bin Tughlaq
Dinapana
Humayun
Khizrabad
Khizr Khan
Salimgarh
Islam Shah
Daulatabad
Md. Bin Tughlaq
Allahabad/ Illahabad
Akbar
Zafarbad
Zafar Khan
Siri
Alauddin Khalji

Historical Monuments and Builders

Historical Monuments
Builders
Sanchi Stupa
Ashoka
Bharhut Stupa
Sungas
Amravati Stupa
Satavahanas
Peshwar Stupa
Kanishka
Sarnath Stupa
Guptas and Vakataka
Chaitya of Bhaja
Satavahanas
Ajanta Painting
Guptas
Shore Temple (Mahabalipuram)

Narasimha II (Pallava)
Shore Temple (Mahabalipuram)
Narasimha II (Pallava)
Mailashnath Temple (Kanchipuram)
Narasimha II (Pallaya)
Vaikuntha Permual Temple (Kanchipuram)
Nandian Varman II
Virupaksha Temple (Pattadkal)
Chalukyas of Badami
Dasavatara Temple (Deogarh)
Guptas
Mahabodhi Temple (Bodhgaya)
Palas
Kailashnath Temple(Ellora)
Krishna I (Rashtrakhuta)
Elephanta Caves
Rashtrakutas, According to some others Kalcharies
Brihadesvara Temple (Tanjore) also called Rajrajeshwara
Rajaraja I (Chola)
Lingraj Temple (Bhubeneshwar)
The Eastern Gangas
Jagannath Temple (Puri)
Anant Verma (Eastern Ganga)
Sun Temple (Konark)
Narasimha Gajapati
Kendriya Mahadev (Khajuraho)
Chandellas of Bundelkhand Temple
Sun Temple (Modhera)
Solanki of Gujarat
Adinath (Vimla Vasahi Temple) Dilwara
Vimala, Minister of Bhima I
Neminath Luna
Vastupala and Tejpala,
Varahi Temple(Dilwara)
Ministers of Bhima II
Hoyasaleswara Temple
Hoyasalas (helebid / Dwarsamudra)
Sun Temple (Martanmd)
Lalitaditya (Karkota dynasty of Kashmir)
Kritistambha (Chittor)
Rana Kumbha
Hazara Temple
Krishnadevarya
Minakshi Temple(Madurai)
Tirumala Nayak
Gol Gumbaj Bijapur
Md. Adil Shah
Char Minar(Hyderabmad)
Md. Quli Qutub Shah
Jama Masjid(Ahmedabad)
Ahmed Shah I
Adina Masjid ( Pandua)
Sikandar Shah
Jama Masjid (Mandu)
Mahmud Khaliji
Qila-i-Kuhna (with Purana Qila Delhi)
Sher Shah Masjid
Atala Masjid (Jaunpur)
Hussain Shah Sharqi
Jami Mosque (Jaunpur)
Hussain Shah Sharqi
Dakhili Darwaja (Gaur)
Barbak Shah
Ekalakhi (Pandua)
Jalauddin Md. Shah
Jami Mosque (Mandu) and completed by Mahmud I
Started by Hushang Shah
Ashrafi Mahal (Gold Mandu)
Mahmud I Mohur Palace,
Tin Darwaja (Ahmedabad)
Ahmed Shah
Vitthalswami
Krishnadeva Raya Temple
Qadm Rasul (Gaur)
Nusrat Shah
Bara Sona Masjid (Gaur)
Nusrat Shah
Lal Darwaja (Jaunpur) Sharqi
Raj Bibi / Consort of Mahmud
Jama Masjid (Ahmedabad)
Ahmed Shah
Hindola Mahal (Mandu)
Hushang Shah
Kumbhalgarh
Raja Kumbha Karan
Vijaya Stambha (Chittor)
Rana Kumbha Karan
Statue of Gomesteswara/ Bahubali
Chamundaraya (Sravanbelgola)
Nalanda University
Kumargupta (Guptas)
Vikramshila Univeristy
Dharmpala (Palas)
Important travellers
Megathenes
A greek ambassador sent by Selucas to the court of Chandragupta Maurya.
Wrote the book Indika.
The book provides a graphic picture of the socio-economic conditions of India during the Mauryan period.
It gives valuable information on municipal administration as well.
Fa-Hien
A Buddhist monk
Visited India during the reign of Chandragupta II.
Huen-Tsang
A famous Chinese Buddhist monk.
Visited India during the reign of Harsha.
Popularly known as the "Prince of Pilgrims".
Studied at Nalanda University.
His work is known as Si-Yu-Ki. I-Tsing
A Chinese traveller.
Visited India in connection with Buddhism and its learning.
Wrote the book "Biographics of Eminent Monks".
Al-Masudi
An Arab traveller
Wrote the book "Murujul Zabab".
He has written extensively on contemporary India.
Marco Polo
A venetian traveller.
Popularly called the "Prince of Medieval Travellers".
Wrote a book "The Book of Ser Marco-Polo".
The book gives an invaluable account on the economic history of India.
Visited South India in 1292-93 on his way from China to Persia and collected valuable amount of information of some parts of South India.
Ibn Batuta
An Arab and a native of Morocco.
Reached India during the reign of Muhammad-bin Tuglaq.
Was appointed as Qazi of Delhi during the reign.
While returning to Morocco in 1353, Ibn Batuta compiled his travel experience in the book called 'Rehla'.
It gives valuable information on the reign of Muhammad-bin Tughlaq and the geographical, econonic and social conditions of India.
Gives reference to Sadi (group of 1000 villages) and Hazar (group of 1000 villages)
Gives reference to fruit-growing activities. (mango was the prized fruit).
Nicolo Conti
An Italian and the earliest visitor to Vajayanagar Empire.
2. Reached India during the reign of Devaraya I.
Abdur Razzaq
A Persian, sent by Shah Rukh as ambassador to the Zarnorin of Calicut.
He also visited Vijaynagar during the reign of Deviraya II.
Athanasius Nikitin
A Russian horse merchant, spent some years in the deccan and travelled in the Bahmani Kingdom.
Resided in Bidar for a long time.
He gave detailed observation of the court, the army and conditions of the people under Bahamani rule.
Durate Barbosa
Was a Portuguese official in India.
His works gives information on the Vijayanagara empire.
Ludovico Di Varthema
A soldier and traveller who was knighted by the Portuguese.
Wrote a book 'The Itinerary of Ludovido Di Varthema' which provides a detailed account of Goa and Calicut and other ports on the West Coast.
Domingo Paes
A great Portuguese traveller who visited Vijaynagar during the reign of Krishnadeva Rya.
Paes has written a descriptive glory of the Vijaynagar empire in his book "The Narrative of Domingo Paes".
He found the city of Vijaynagar as large as Rome
Rernao Nuniz
A Portuguese horse dealer who spent three years in the empire of Vijaynagar.
He wrote a book 'The Chronicle of Fernao Nuniz'.
He also translated compiled and edited the account of Paes and Nuniz in his famous work "A Forgotten Empire".
Ralph Fitch
First English Merchant to reach Fatehpur Sikri and Agra.
Visited a number of places in various parts of India and provides valuable information on the trade and urban centres of the late sixteenth century.
Caesar Fredrick
A Portuguese who visited the empire of Vijaynagar after the battle of Talikota.
He made special comments on the runined splendour of the imperial city.
William Hawkins
An English ambassador of the Britsh King James I to the court of Jahangir.
He had came to India to secure the trading rights for the English in India.
He has written valuable information on the reign of Jahangir.
Sir Thoms Roe
Leader of the Second English Embassy to the court of Jahangir.
He wrote a book 'A voyage to the East Indies'.
The book provides a very useful information about the court business.
Pietro Della Valle
An Italian traveller who reached Surat in 1623.
Wrote about social conditions of India.
Pater Mundy
An Indian traveller to the Mughal empire in the reign of Shah Jahan.
He has given a valuable formations on the conditions of the common people in Mughal India.
Jean Baptise Tavernier
A frenchman, made six voyages to India between 1638 and 1663.
Wrote a book entitled 'Travel in India'.
He has written about the reigns of Shah Jahan and Aurangzeb.
He has give a detailed description of the diamond trade and mines.
Nicolao Manucci
Reached India in 1656 from Venice.
Worked as an artilleryman in the army of Dara Shikoh.
After Dara's execution he worked as a quack doctor, an artillery captian, an ambassador etc.
Died at Madras.
5. Wrote Storio Do Mogor, written in a mixture of Italian, French and Portguese.
Francois Bernier
Reached India in 1656 from France.
He was a physician and philosopher.
Lived under the patronage of Danishmand Khan, one of Aurangzeb's leading nobles.
Dynasties and their Founders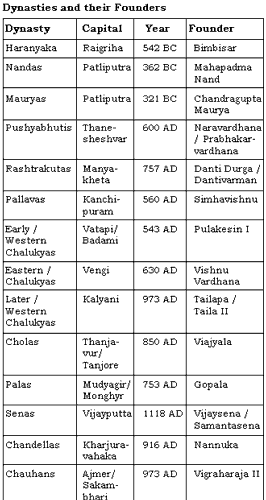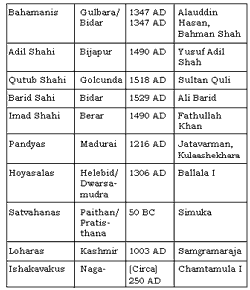 Authors
Books
Asvaghosa (100 AD)
Buddhacharita
Bharavi (600 AD)
Kirtarjuniyam
Vakpatiraja
Gaudvaho (Prakrit)
Hala (100 AD) asKi
Saptasataka / Gathasaptasi (Prakrit)
Bhasa
Swapana Vasuduttam
Sudraka (500-600 AD)
Mrichhkatika (Little Play Cart)
Harshvardhana
Ratnavali
Harshvardhana
Priyadarshika
Visakhadutta
Mudra Rakshasa
Banabhatta (700 AD)
Kadambari
Banabhatta (700 AD)
Harsha Charita
Gunadhya (200 AD)
Brihat Katha
Chanderbardai
Prithvirajraso
Chanderbardai
Prithvirajavijaya
Charak (contemporary of Kanishka)
Charam Samhita (First Book on medicine)
Susuta (400 AD)
Susruta Samhita (First book on Surgery)
Hemanchandra
Parisistparvan
Merutunga (1400 AD)
Prabhandha Chintamani
Rajasekhara
Prabhandhkosa
Vijnaneshwara
Mitakshara (on law of inheritance)
Kalidasa
Raghuvamsa
Kalidasa
Kumarasambhvam
Kalidasa
Abhjinanashakutalam
Kalidasa
Meghadutam
Kalidasa
Ritusamhara
Kalidasa
Malvika - Agnimitra
Panini
Astyadhyayi (First book on Sanskrit grammer)
Patanjali (200 BC)
Mahabhasya
Amarsimha (During the reign of Chandragupta II)
Amarkosa (lexicography)
Jayadeva (1200 AD)
Gita Govinda
Mahendravarman (A buriesque)
Mattavilasa Prahasana (Palava king)
Narayana Pandit
Hitopadesa
Vishnusharma
Panchatantra
Megasthenes
Indika
Ram Das,
Dasabodha Maharashtra Dharma
Pliny
Natural Historrica
Ptolemy
Geographica
Anonymous Greek
Periplus of the ErythreanSailor Sea
Collection of writings
Tirumurais of Nayanars & Alvar as 5th Veda
Aryabhatta
Arbhatiyam
Aryabhatta
Suryasidhanta
Somadeva
Kathasritasagar
Naychandra Suri
Harnikavya
Vakaptiraja
Gaudavaho
(Prakrit exploits of Yasovarman of Kannauj)
Jimutavahana
Dayabhaga
Fahien
Ho-Kwo-Ki
Huen Tsang
Si-Yu-Ki
Udyaraja
Rajavinoda (Biography of Mahmud Begarha of Gujarat)
Kalhana
Rajarangini
Somadeva
Kathasaritsagar (Based on Gundhaya's brihat-Katha)
Bhaskracharya
Lilawati (Mathematics)

Scholars and Their Patrons

Scholars
Patrons
Udayaraja
Mehmud Begarha of Gujarat
Hemchandra
Mumarpala Chalukyas of Ahilwada
Nagarjuna
Kanishka
Amarsimha
Chandragupra Vikramaditya
Ravikirti
Pulkesin (Chalukyas of Badami)
Vakapatiraja
Yasovarman of Kannauj 720 AD
Bhavabhuti
Yasovarman of Kannauj
Harisena
Samudra Gupta
Rajshekhara
Prithviraj III
Chandra- barradai

Brithviraj Chauhan Banabhatta Harsha
Dandin
Narsimhavarman (Pallava)
Bharavi
Simha Vishnu (Pallava)
Gunadhyaya
Hala (Satvahana)
Mavirarcharya
Amoghvarsha (Rashtrakuta)
Jinsena
Amoghvarsha
Sakityana
Amoghvarsha
Jaidev
Lakshman Sena (Bengal)
Bilhana
Vikramaditya VI (Chalukya of Kalyani)
Vijayaneshwar
Vikramaditya VI
Lakshmidhara
Govindchandra (Gadhavalas of Kannauj)
Kalhan
Harsha of Kashmir
Firdausi
Mahmud Gazni
Amir Khusro
Alauddin Khilji