Daily Current affairs 17 June 2019
UPSC - Daily Current Affair
DIGITAL TRANSACTIONS IN INDIA
According to a Reserve Bank of India (RBI) report, Digital transactions in India are set to rise four times by 2021.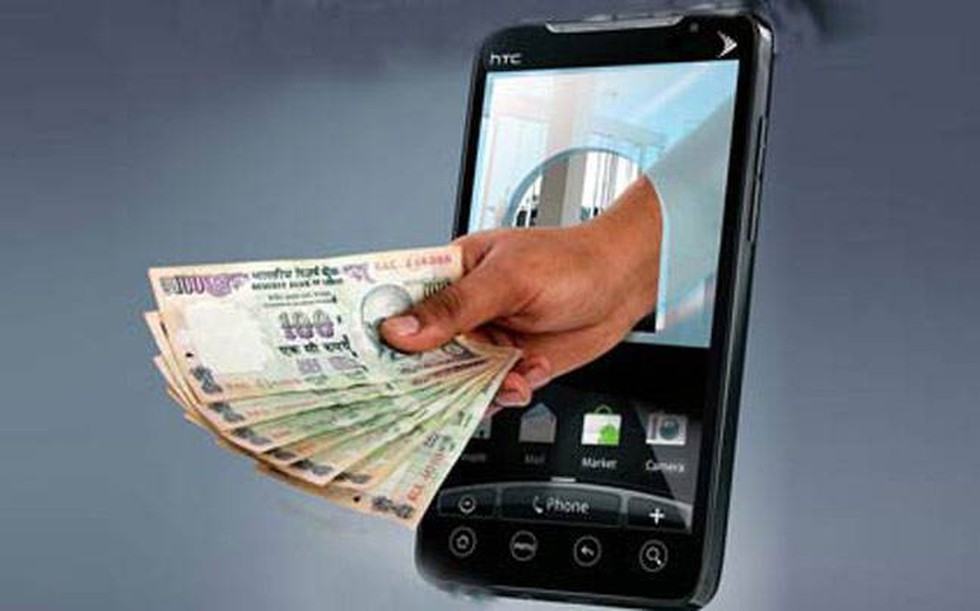 Key findings of the report:
India's push to build a less-cash economy seems to be gathering momentum.




Total digital transactions in volume terms recorded a growth rate of 58.8 % during 2018-19, on top of a growth of 50.4 % during 2017-18.



The number of digital transactions is expected to increase more than four times from Rs 2,069 crore in December 2018 to Rs 8,707 crore in December 2021.


Though the bulk of digital transactions in value terms (82.8 %) are accounted for by RTGS transactions, retail component of digital transactions (excluding RTGS customers and interbank transactions) witnessed a volume growth of 59.3 % during 2018-19.



Recent innovations in payment and settlement system:
The payment and settlement landscape has witnessed unprecedented waves of innovation.



Mobile wallets have literally made banking services available 'on tap'; digital-only banks have done away with the need for brick and mortar presence.

Biometric authentication has made doing transactions much safer and more convenient than the conventional modes of payment.

Blockchain may be a potentially disruptive technology but it is automating and decentralising financial transactions.

Artificial Intelligence (AI) is being employed in financial technology (fintech) industry in the form of automated data analysis, chatbots and robo-advisers.

Near field communication (NFC) technology and central bank digital currencies (CBDCs) are other path-breaking innovations that have emerged into the payment and settlement landscape.

Source : Indian Express
Economy
INDRAYANI RIVER
The Maharashtra Pollution Control Board has sought an explanation from the Dehu gram panchayat for around 4,000 dead fish, mostly mahseer, were found floating in the Indrayani river last week. The cause of this incident was the release of untreated sewage in the river.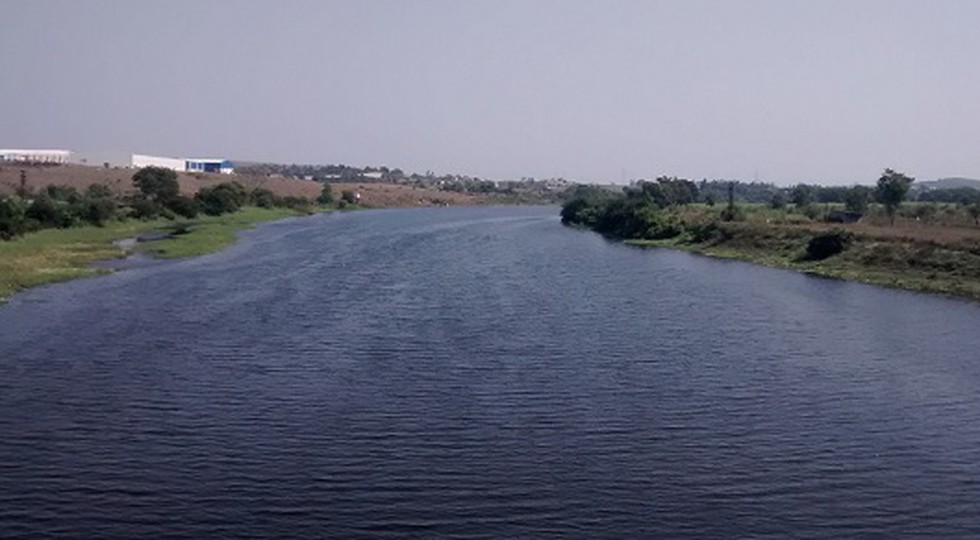 About:
Course: The Indrayani river originates in Kurvande village near Lonavla in Maharashtra. It flows east from there to meet the Bhima river, through the Hindu pilgrimage centers of Dehu and Alandi.

This river happens to be one of the tributaries of the Bhima River, which again happens to be a tributary of Krishna River.

Spiritual significance: It is revered as a holy river and is associated with such great religious figures such as Sant Tukaram and Dnyaneshwar.

Valvan Dam: There is a hydroelectric dam called Valvan Dam on the Indrayani at Kamshet.

Source : The Hindu
Location in News
NEW G-20 FRAMEWORK ON MARINE PLASTIC WASTE
During the two-day ministerial meeting in Karuizawa, Japan, Group of 20 Environment Ministers agreed to adopt a new implementation framework for actions to tackle the issue of marine plastic waste on a global scale.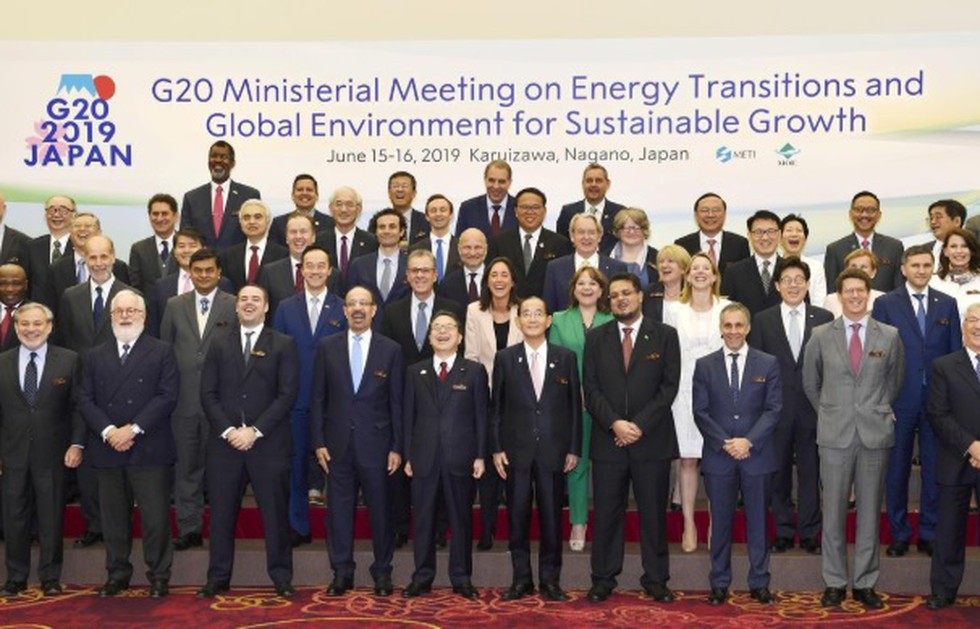 About:
Background: This comes in the aftermath of images of plastic debris-strewn beaches and dead animals with stomachs full of plastic sparking outrage with many countries banning plastic bags outright.

Earlier initiatives: The new framework is aimed at facilitating further concrete action on marine waste, though on a voluntary basis, after the G20 Hamburg Summit in Germany adopted the "G20 action plan on marine litter" in 2017.

Life-cycle approach: Under the new framework, G20 members will promote a comprehensive life-cycle approach to prevent and reduce plastic litter discharge to the oceans through various measures and international cooperation. They will also share best practices, promote innovation and boost scientific monitoring and analytical methodologies.

Way ahead: Japan plans to host the first meeting under the new framework this autumn when officials of environment ministers in the G20 countries are due to meet for the G20 Resource Efficiency Dialogue.

Source : The Hindu, Reuters
Environment
BLACK SOFTSHELL TURTLE
The Ugratara Temple, in Guwahati, Assam, organised a special darshan of 34 hatchlings of the rare black softshell turtle as these hatchlings will be reintroduced into the wild.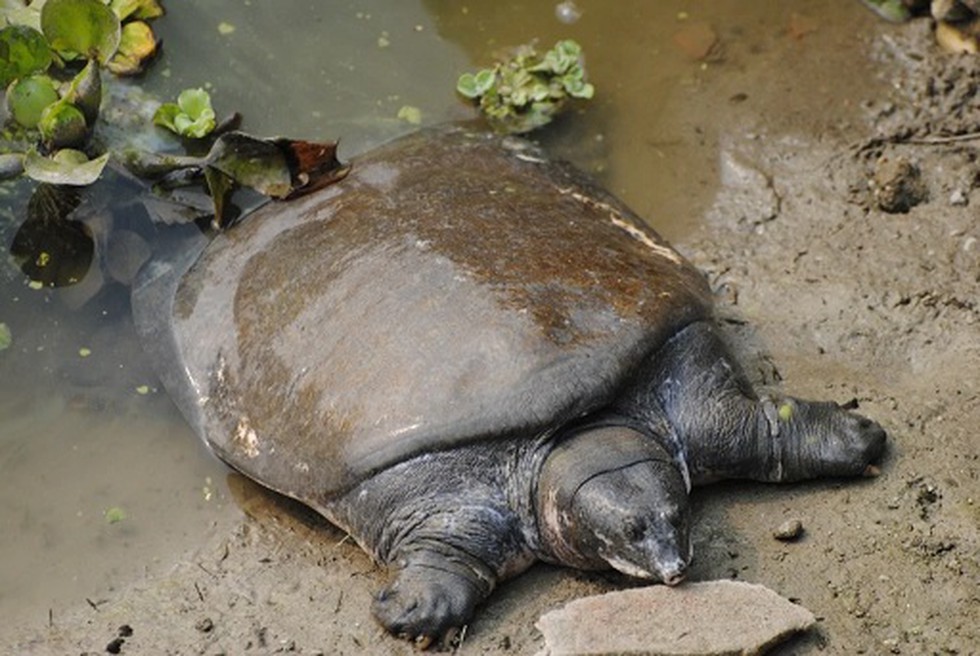 About:
Scientific Name: Nilssonia nigricans.

Common name: The black softshell turtle or Bostami turtle Or Mazari.

What is it? It is a species of freshwater turtle.

Softshell: These turtles are called "softshell" because their shell is light and flexible. This allows them to move more easily in open water, or in muddy lake bottoms. Having a soft shell also allows them to move much faster on land than most turtles.

IUCN conservation status: Extinct in the wild.

Distribution: It is found only in the ponds of some temples in Assam and Bangladesh (Chittagong and Sylhet).

Click to View More
Source : The Hindu
Environment & Ecology
FAIZ HAMEED
Pakistan appointed Lieutenant General Faiz Hameed as new chief of the Inter-Services Intelligence (ISI) spy agency.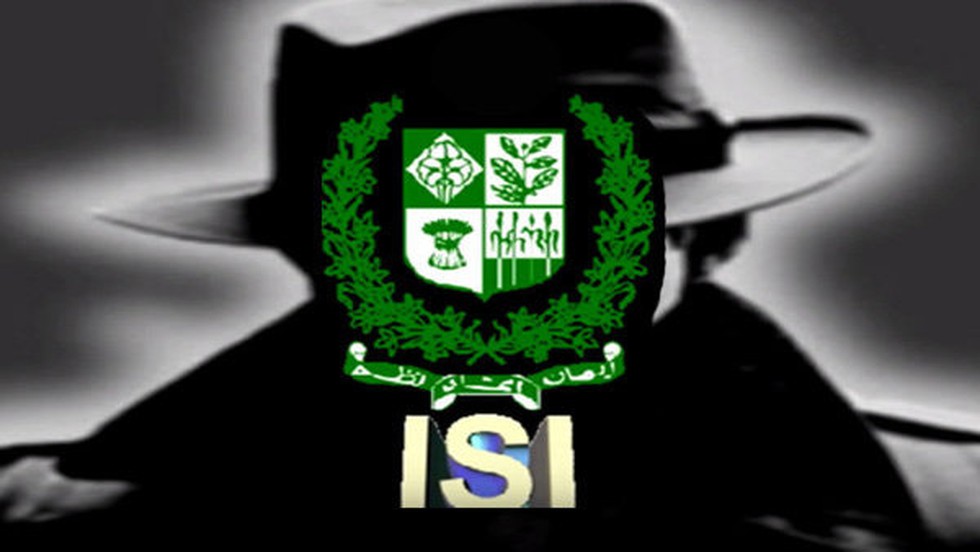 About:
Lieutenant General Faiz Hameed, a former senior ISI figure, was appointed Director-General of the powerful ISI spy agency, replacing its current head, Lieutenant General Asim Munir, after only eight months on the job.



Implications: He is said to be a hard-liner. Activists allege a pattern of growing authoritarianism by the military, which they say has become even more influential since Prime Minister Imran Khan came to power last year.

Background:
The Army is arguably the most influential institution in Pakistan, with the military having ruled the country for nearly half of its 71-year history since independence from Britain and enjoying extensive powers even under civilian administrations.




The head of the ISI occupies one of the most important posts. The agency has long been accused of supporting Islamist militants targeting neighbour India. as well as sheltering the Afghan Taliban and other militants.



Source : The Hindu
International
VIRENDRA KUMAR
Seven time Lok Sabha MP from Tikamgarh in Madhya Pradesh Virendra Kumar today took oath as Pro-tem Speaker of the Lok Sabha. President Ram Nath Kovind administered oath to Dr Kumar at Rashtrapati Bhavan.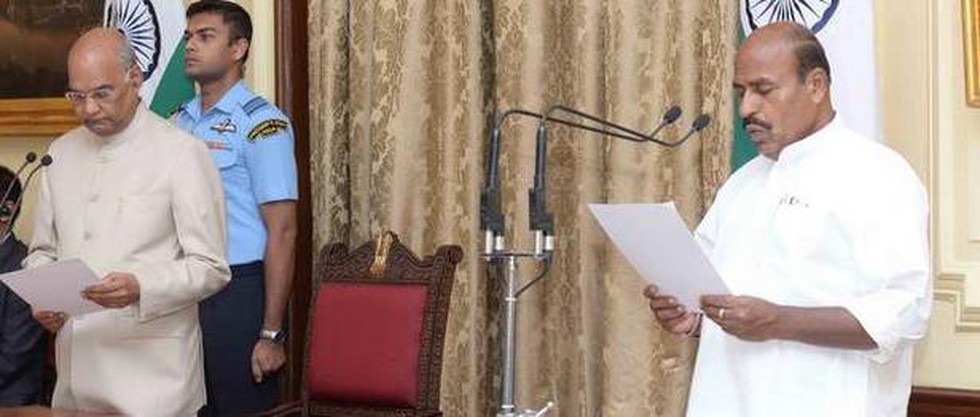 About:
Who is appointed? By tradition the most senior most Member of Lok Sabha (i.e. having the most experience) is appointed as Pro-tem Speaker.

Who appoints him/her? The President himself/herself administers the oath to him/her.

Powers and Functions: He/she has all the powers of the speaker, but the main duties are:

Presiding over the first sitting of the newly constituted Lok Sabha,




Presiding over the election of new Lok Sabha speaker and




Administering the oath of newly elected members.






Duration of his/her term: When the new speaker is elected by the house, the office of the speaker pro tem ceases to exist. Hence, this office is temporary office, existing for a few days.

Constitutional Provisions:

Article 94(2): Office of the Speaker becomes vacant immediately before the first meeting of the new Lok Sabha.

Article 95(1): While the office of Speaker and deputy speaker is vacant, the duties of the office shall be performed by such member of the House of the People as the President may appoint for the purpose.




Source : All India Radio
Polity & Governance
TRADE WAR AND OPPURTUNITIES FOR INDIA
According to a study by the Commerce Ministry, the ongoing trade war between the US and China offers an opportunity to India for boosting exports of as many as 350 products.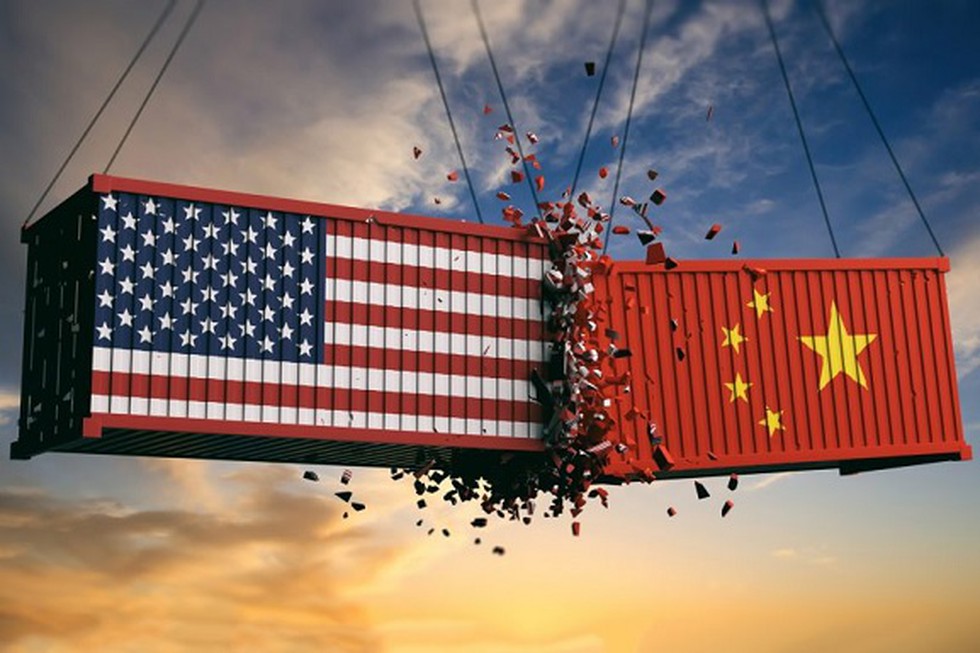 Key highlights of the study:
Both the US and China are imposing heavy import duties on each other's products, which has triggered a trade war kind of situation.



The ongoing trade war between the US and China offers an opportunity to India for boosting exports of as many 350 products such as chemicals and granite to these countries.


As much as 151 domestic products including diesel, X-ray tubes and certain chemicals have an outright advantage to displace the US exports to China. Similarly, 203 Indian goods like rubber and graphite electrodes have the advantage to displace Chinese exports to the US.



The Indian products which can tap the Chinese market include copper ores, rubber, paper, paperboard, equipment for transmission voice/data in a wired network, tunes and pipes.

The Indian products which can grab exports opportunities in the US market include industrial valves, vulcanised rubber, carbon or graphite electrodes and natural honey.

Source : All India Radio
Economy
WORLD DAY TO COMBAT DESERTIFICATION AND DROUGHT
World Day to Combat Desertification and Drought is being observed on June 17, 2019 with the theme "Let's grow the future together".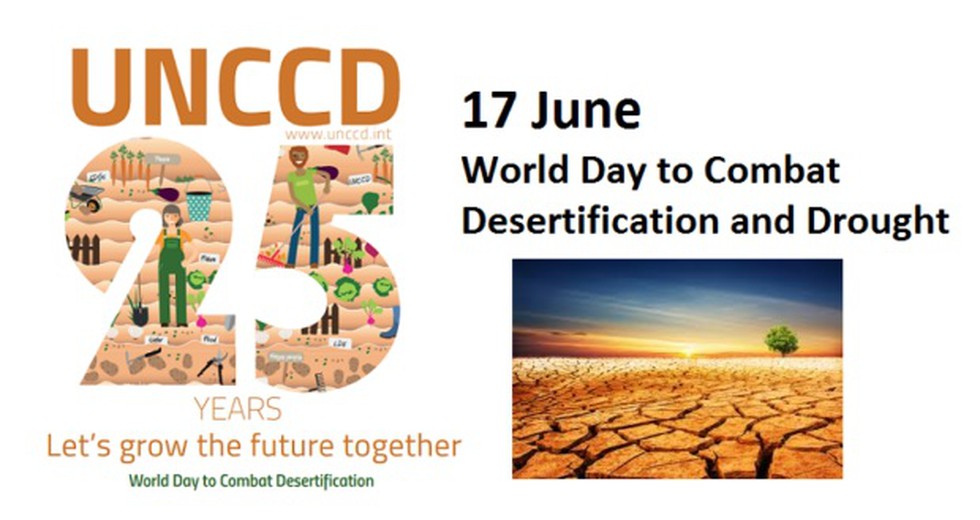 About:
Date of observance: The day is observed every year on June 17, 2019.

Objective of the day: To promote public awareness of international efforts to combat desertification.

Theme for this year: is Let's grow the future together.

This year, the United Nations Convention to Combat Desertification (UNCCD) celebrates the 25 years of progress made by countries on sustainable land management.

Important Info :
Desertification according to United Nations:
Meaning: Desertification is the degradation of land in arid, semi-arid and dry sub-humid areas. Desertification does not refer to the expansion of existing deserts.
Cause: It is caused primarily by human activities and climatic variations. It occurs because dryland ecosystems, which cover over one third of the world's land area, are extremely vulnerable to overexploitation and inappropriate land use.
Global scenario: According to United Nations, every year, the world loses 24 billion tons of fertile soil and dryland degradation reduces national domestic product in developing countries by up to 8 % annually.
Goal 15 of the 2030 Agenda for Sustainable Development states our resolve to halt and reverse land degradation.
Source : All India Radio
Environment & Ecology
Relevant articles from various news sources:
Paper 2:
Topics covered:
Issues related to health.
What to study?
For prelims and mains: One health concept- background, features, need and significance.
What is it?
The World Organization of Animal Health, commonly known as OIE (an abbreviation of its French title), summarises the One Health concept as "human health and animal health are interdependent and bound to the health of the ecosystems in which they exist".
Is it a new concept?
The philosophy of One Health recognises inter-connectivity among human health, the health of animals, and the environment.
Circa 400 BC, Hippocrates in his treatise On Airs, Waters and Places had urged physicians that all aspects of patients' lives need to be considered including their environment; disease was a result of imbalance between man and environment. So One Health is not a new concept, though it is of late that it has been formalised in health governance systems.
Why it has received renewed interests?
As human populations expand, it results in greater contact with domestic and wild animals, providing more opportunities for diseases to pass from one to the other. Climate change, deforestation and intensive farming further disrupt environment characteristics, while increased trade and travel result in closer and more frequent interaction, thus increasing the possibility of transmission of diseases.
Key facts:
According to the OIE, 60% of existing human infectious diseases are zoonotic i.e. they are transmitted from animals to humans; 75% of emerging infectious human diseases have an animal origin.

Of the five new human diseases appearing every year, three originate in animals.

80% biological agents with potential bio-terrorist use are zoonotic pathogens.

It is estimated that zoonotic diseases account for nearly two billion cases per year resulting in more than two million deaths — more than from HIV/AIDS and diarrhoea.

One-fifth of premature deaths in poor countries are attributed to diseases transmitted from animals to humans.
Need of the hour:
There is need for strengthening veterinary institutions and services.
The most effective and economical approach is to control zoonotic pathogens at their animal source.
It calls not only for close collaboration at local, regional and global levels among veterinary, health and environmental governance, but also for greater investment in animal health infrastructure.
This calls for strict health surveillance to incorporate domestic animals, livestock and poultry too.
Humans require a regular diet of animal protein. Thus, loss of food animals on account of poor health or disease too becomes a public health issue even though there may be no disease transmission, and we lose 20% of our animals this way.
There could not be a stronger case for reinventing the entire animal husbandry sector to be able to reach every livestock farmer, not only for disease treatment but for prevention and surveillance to minimise the threat to human health.
Early detection at animal source can prevent disease transmission to humans and introduction of pathogens into the food chain.
So a robust animal health system is the first and a crucial step in human health.
Disease surveillance has to go beyond humans and encompass preventive health and hygiene in livestock and poultry, improved standards of animal husbandry for greater food safety, and effective communication protocols between animal and public health systems.
Challenges for India:
Developing countries like India have much greater stake in strong One Health systems on account of agricultural systems resulting in uncomfortably close proximity of animals and humans.
The size of India's human and animal populations is almost the same; 121 crore people (2011 Census) and 125.5 crore livestock and poultry.
A network of 1.90 lakh health institutions in the government sector form the backbone of health governance, supported by a large number of private facilities.
On the other hand, only 65,000 veterinary institutions tend to the health needs of 125.5 crore animals; and this includes 28,000 mobile dispensaries and first aid centres with bare minimum facilities.
Private sector presence in veterinary services is close to being nonexistent.
Sources: Indian express.
---
Paper 3:
Conservation related topics.
World Day to Combat Desertification and Drought: 17 June
What to study?
For prelims: about WCDD- theme and significance.
For mains: what is desertification, causes, effects, Concerns and measures needed to prevent?
Context: World Day to Combat Desertification and Drought is observed on June 17 every year.
The World Day to Combat Desertification and Drought 2019 theme is 'Let's Grow the Future Together' (Reflecting on 25 years of progress and envisaging to the next 25) encouraging people against depleting the land of its inbuilt resources.
Desertification and the Sustainable Development Goals:
The 2030 Agenda for Sustainable Development declares that "we are determined to protect the planet from degradation, including through sustainable consumption and production, sustainably managing its natural resources and taking urgent action on climate change, so that it can support the needs of the present and future generations". Specifically, Goal 15 states our resolve to halt and reverse land degradation.
What is Desertification?
Desertification is the degradation of land in arid, semi-arid and dry sub-humid areas. It is caused primarily by human activities and climatic variations. Desertification does not refer to the expansion of existing deserts.

It occurs because dryland ecosystems, which cover over one third of the world's land area, are extremely vulnerable to overexploitation and inappropriate land use. Poverty, political instability, deforestation, overgrazing and bad irrigation practices can all undermine the productivity of the land.
Facts for Prelims:
About UNCCD: Established in 1994, the United Nations Convention to Combat Desertification (UNCCD) is the sole legally binding international agreement linking environment and development to sustainable land management. The Convention addresses specifically the arid, semi-arid and dry sub-humid areas, known as the drylands, where some of the most vulnerable ecosystems and peoples can be found.
Concerns for India:
India has witnessed increase in the level of desertification in 26 of 29 states between 2003-05 and 2011-13, according to the State of India's Environment (SoE) 2019 in Figures.

Twenty-one drought-prone districts, of the 78 in the country that were identified by the Indian Space Research Organisation, have more than half of their areas under desertification.

Of these nine have also witnessed over two per cent increase in the area under desertification between 2003-05 and 2011-13.

More than 80 per cent of the country's degraded land lies in just nine states: Rajasthan, Maharashtra, Gujarat, Jammu and Kashmir, Karnataka, Jharkhand, Odisha, Madhya Pradesh and Telangana.
Top three districts with highest area under desertification or land degradation are Jaisalmer, Rajasthan (92.96 per cent during 2011-13 and 98.13 per cent during 2003-05), Lahaul and Spiti, Himachal Pradesh (80.54 per cent during 2011-13 and 80.57 per cent during 2003-05) and Kargil, Jammu and Kashmir (78.23 per cent during 2011-13 and 78.22 per cent during 2003-05).
Main reasons that cause desertification in India are:
Water erosion (10.98 per cent).

Wind erosion (5.55 per cent).

Human-made/settlements (0.69 per cent).

Vegetation degradation (8.91 per cent).

Salinity (1.12 per cent).

Others (2.07 per cent).
Sources: the Hindu.
Mains Question: Differentiate between land degradation and desertification? Discuss impact of desertification on ecology.
---
Paper 2:
Topics covered:

Indian Constitution- historical underpinnings, evolution, features, amendments, significant provisions and basic structure.
One Nation One Election
What to study?
For prelims and mains: One Nation One Election- need, challenges associated, concerns and significance.
Context: PM Modi calls for all-party meet on 'one nation, one election'.
Simultaneous elections refer to holding elections to Lok Sabha, State Legislative Assemblies, Panchayats and Urban local bodies simultaneously, once in five year.
Problems associated with frequent elections:
The massive expenditure that is currently incurred for the conduct of separate elections.

The policy paralysis that results from the imposition of the Model Code of Conduct during election time.

Impact on delivery of essential services.

Burden on crucial manpower that is deployed during election time.

Frequent elections affect policymaking and governance as the government is trapped in short-term thinking.

It also destabilises duly-elected governments and imposes a heavy burden on the exchequer.

It also puts pressure on political parties, especially smaller ones, as elections are becoming increasingly expensive.

The Model Code of Conduct (MCC) which comes into force with the announcement of poll dates, prevents government from announcing any new schemes, make any new appointments, transfers and postings without the approval of election commission. This brings normal work of the government to a standstill.

It also increases the cost of management to the election commission.
Merits of Simultaneous elections:
Governance and consistency: The ruling parties will be able to focus on legislation and governance rather than having to be in campaign mode forever.
Reduced Expenditure of Money and Administration: The entire State and District level administrative and security machinery will be busy with the conduct of elections twice in a period of five years as per the current practice. Expenditure can be reduced by conducting simultaneous elections.
Continuity in policies and programmes.
Efficiency of Governance: Simultaneous elections can bring the much-needed operational efficiency in this exercise. Populist measures by governments will reduce.
Simultaneous elections can also be a means to curb corruptionand build a more conducive socio-economic ecosystem.
The impact of black money on the voters will be reduced as all elections are held at a time.
But, why it is difficult to go for simultaneous elections?
The biggest challenge is achieving political consensus, which seems to be "chimerical".

Regional parties will be more opposed to the idea than national parties because there is always a tendency for voters to vote the same party in power in the state and at the Centre in case the Lok Sabha polls and the state elections are held together.

Also, according to IDFC, there is a 77% chance that the Indian voter will vote for the same party for both the state and Centre when elections are held simultaneously.
For simultaneous elections to be implemented, Changes to be made in Constitution and Legislations:
Amendments needed in the following articles:-
Article 83 which deals with the duration of Houses of Parliament need an amendment

Article 85 (on dissolution of Lok Sabha by the president)

Article 172 (relating to the duration of state legislatures)

Article 174 (relating to dissolution of state assemblies)

Article 356 (on President's Rule).

The Representation of People Act, 1951 Act would have to be amended to build in provisions for stability of tenure for both parliament and assemblies. This should include the following crucial elements:

Restructuring the powers and functions of the ECI to facilitate procedures required for simultaneous elections

A definition of simultaneous election can be added to section 2 of the 1951 act.
Sources: the Hindu.
Mains Question: Analyze the feasibility of holding simultaneous election in India in the near future?
---
Paper 3:
Topics Covered:

Conservation, environmental pollution and degradation, environmental impact assessment.
'Dead zone' in the Gulf of Mexico
What to study?
For prelims and mains: location of Gulf of Mexico, about dead zones and eutrophication.
Context: Scientists from the National Oceanic and Atmospheric Administration and Louisiana State University have predicted that this spring's record rainfall would produce one of the largest-ever "dead zones" in the Gulf of Mexico.
What are dead zones?
Unoxygenated "dead zones" appear in waterways wherever algae are overfed by runoff from human activities such as urbanization and agriculture – a phenomenon called eutrophication.
What caused dead zone in Gulf of Mexico?
The dead zone in the Gulf of Mexico, fueled by the nutrient-laden water spilling from the mouth of the Mississippi River, is the second-largest in the world.
It blooms every summer, when warming waters accelerate the metabolisms of microorganisms, and it is expected to get even worse as the climate continues to change.
The primary culprits in eutrophication appear to be excess nitrogen and phosphorus—from sources including fertilizer runoff and septic system effluent to atmospheric fallout from burning fossil fuels—which enter waterbodies and fuel the overgrowth of algae, which, in turn, reduces water quality and degrades estuarine and coastal ecosystems.
Effects of Eutrophication:
Eutrophication can also produce carbon dioxide, which lowers the PH of seawater (ocean acidification). This slows the growth of fish and shellfish, may prevent shell formation in bivalve mollusks, and reduces the catch of commercial and recreational fisheries, leading to smaller harvests and more expensive seafood.
What needs to be done?
Improvement of the purifying performance of waste water treatment plants, installing tertiary treatment systems to reduce nutrient concentrations;

implementation of effective filter ecosystems to remove nitrogen and phosphorus present in the run-off water (such as phyto-purification plants);

reduction of phosphorous in detergents;

rationalisation of agricultural techniques through proper planning of fertilisation and use of slow release fertilisers;

use of alternative practices in animal husbandry to limit the production of waste water.

oxygenation of water for restore the ecological conditions, reducing the negative effects of the eutrophic process, such as scarcity of oxygen and formation of toxic compounds deriving from the anaerobic metabolism;

chemical precipitation of phosphorous by the addition of iron or aluminium salts or calcium carbonate to the water, which give rise to the precipitation of the respective iron, aluminium or calcium orthophosphates, thereby reducing the negative effects related to the excessive presence of phosphorus in the sediments.
Sources: the Hindu.
---
Paper 2:
Topics covered:
Welfare schemes for vulnerable sections of the population by the Centre and States and the performance of these schemes.
Pradhan Mantri Bhartiya Janaushadhi Pariyojana (PMBJP)
What to study?
For Prelims: Features of PMBJP and Janaushadhi Suvidha.
For Mains: Health facilities for the underprivileged- need and efforts by the government, generic medicines and their increasing popularity worldwide.
Context: The Bureau of Pharma PSUs of India (BPPI) has found 25 batches of drugs of 18 pharmaceutical companies to be of substandard quality since January 2018.
BPPI implements the Centre's flagship affordable medicine scheme Pradhan Mantri Janaushadhi Pariyojana (PMBJP).
About PMBJP:
'Pradhan Mantri Bhartiya Janaushadhi Pariyojana' is a campaign launched by the Department of Pharmaceuticals, Govt. Of India, to provide quality medicines at affordable prices to the masses through special kendra's known as Pradhan Mantri Bhartiya Jan Aushadhi Kendra.

Pradhan Mantri Bhartiya Jan Aushadhi Kendra (PMBJK) have been set up to provide generic drugs, which are available at lesser prices but are equivalent in quality and efficacy as expensive branded drugs.
Bureau of Pharma PSUs of India (BPPI) is the implementing agency of PMBJP. BPPI (Bureau of Pharma Public Sector Undertakings of India) has been established under the Department of Pharmaceuticals, Govt. of India, with the support of all the CPSUs.
SALIENT FEATURES OF THE SCHEME:
Ensure access to quality medicines.

Extend coverage of quality generic medicines so as to reduce the out of pocket expenditure on medicines and thereby redefine the unit cost of treatment per person.

Create awareness about generic medicines through education and publicity so that quality is not synonymous with only high price.

A public programme involving Government, PSUs, Private Sector, NGO, Societies, Co-operative Bodies and other Institutions.

Create demand for generic medicines by improving access to better healthcare through low treatment cost and easy availability wherever needed in all therapeutic categories.
What is a Generic Medicine?
Generic medicines are unbranded medicines which are equally safe and having the same efficacy as that of branded medicines in terms of their therapeutic value. The prices of generic medicines are much cheaper than their branded equivalent.
Outreach of generic medicines:
With developments like more and more doctors prescribing generic medicines and opening of over 5050 Janaushadhi stores across 652 districts, awareness and availability of high quality affordable generic medicines has increased in the country. About 10-15 lakh people benefit from Janaushadhi medicines per day and the market share of generic medicines has grown over three fold from 2% to 7%in last 3 years.

The Janaushadhi medicines have played a big role in bringing down the out of pocket expenditure of patients suffering from life threatening diseases in India. The PMBJP scheme has led to total savings of approximately Rs.1000 crores for common citizens, as these medicines are cheaper by 50% to 90% of average market price.

The PMBJP is also providing a good source of self-employment with self-sustainable and regular earnings.
Sources: the Hindu.
---
Facts for Prelims:
World's highest weather station at Mount Everest:
Context: Climate scientists have created a history by installing world's highest operating weather station at Mount Everest's Death Zone, including five other automated stations on other parts of the mountain.
The weather station will record data on temperature, relative humidity, barometric pressure, wind speed, and wind direction. Besides, the new weather stations will also give scientists direct observations to understand jet stream, and will also help understand how the climate change is affecting the Himalayas.
The other five weather stations that are located in the Mount Everest are in Balcony area (8,430 m), South Col (7,945m) at Phortse (3,810 m), Everest Base Camp (5,315 m) and Camp 2 (6,464 m).
Note: From prelims perspective, please remember the locations mentioned and their geographical positions.
Balsams or jewel-weeds:
Context: Eastern Himalayas, a treasure trove of Balsams, yields 20 new species.
About Balsams:
Belonging to Arunachal Pradesh and Sikkim, these plants are highly sensitive to climatic conditions like extreme drought and extended exposure to sunlight.
Consisting of both annual and perennial herbs, balsams are succulent plants with high endemism. Because of their bright beautiful flowers, these group of plants are of prized horticultural significance.
---
Summaries of important Editorials:
ISRO's permanent space station:
Context: ISRO is planning to build a permanent space station for itself, possibly in the next five to seven years.
Need:
ISRO would be undertaking many prolonged space exploration projects and sending many astronauts into space. Therefore, it would require a permanent station for itself.

ISRO needs this facility in the context of its various space missions.

NASA's International Space Station, the only one functional right now, is slated to retire by 2025, or latest by 2028, and no replacement for it has been confirmed so far.
The Indian Space Station:
A space station is an artificial satellite placed in orbit and is used as a long-term base for manned operations in space.

The Indian space station would be stationed at an altitude of 400 kilometres from Earth.

The proposed Indian space station would be similar to the International Space Station (ISS) but smaller in size weighing about 20 tonnes and would take another 5 to 7 seven years to construct.
What Is the International Space Station?
The International Space Station is a large spacecraft in orbit around Earth. It serves as a home where crews of astronauts and cosmonauts live. The space station is also a unique science laboratory. Several nations worked together to build and use the space station. The space station is made of parts that were assembled in space by astronauts. It orbits Earth at an average altitude of approximately 250 miles. It travels at 17,500 mph. This means it orbits Earth every 90 minutes. NASA is using the space station to learn more about living and working in space. These lessons will make it possible to send humans farther into space than ever before.
How Old Is the Space Station?
The first piece of the International Space Station was launched in November 1998. A Russian rocket launched the Russian Zarya (zar EE uh) control module. About two weeks later, the space shuttle Endeavour met Zarya in orbit. The space shuttle was carrying the U.S. Unity node. The crew attached the Unity node to Zarya.

More pieces were added over the next two years before the station was ready for people to live there. The first crew arrived on November 2, 2000. People have lived on the space station ever since. More pieces have been added over time. NASA and its partners from around the world completed construction of the space station in 2011.
How Big Is the Space Station?
The space station has the volume of a five-bedroom house or two Boeing 747 jetliners. It is able to support a crew of six people, plus visitors. On Earth, the space station would weigh almost a million pounds. Measured from the edges of its solar arrays, the station covers the area of a football field including the end zones. It includes laboratory modules from the United States, Russia, Japan and Europe.
Why Is the Space Station Important?
The space station has made it possible for people to have an ongoing presence in space. Human beings have been living in space every day since the first crew arrived. The space station's laboratories allow crew members to do research that could not be done anywhere else. This scientific research benefits people on Earth.

Space research is even used in everyday life. The results are products called "spinoffs." Scientists also study what happens to the body when people live in microgravity for a long time. NASA and its partners have learned how to keep a spacecraft working well. All of these lessons will be important for future space exploration.

NASA currently is working on a plan to explore other worlds. The space station is one of the first steps. NASA will use lessons learned on the space station to prepare for human missions that reach farther into space than ever before.
Key facts:
ISS is the ninth space station to be inhabited by crews, following the Soviet and later Russian Salyut, Almaz, and Mir stations as well as Skylab from the US.

The ISS programme is a joint project among five participating space agencies: NASA, Roscosmos, JAXA, ESA, and CSA.

The ownership and use of the space station is established by intergovernmental treaties and agreements. The station is divided into two sections, the Russian Orbital Segment (ROS) and the United States Orbital Segment (USOS), which is shared by many nations.
SL. NO.

TOPICS

THE HINDU

PAGE NO.

1

Qualifying for Leader of the Opposition

11

2

In the absence of good law

10

3

Global Peace Index 2019

11

4

Assam temple bids adieu to rare turtle hatchlings

22

5

This will be a tough budget to balance

15

6

Drugs of 18 pharma firms found substandard since 2018

09
Title

1. Qualifying for Leader of the Opposition (The Hindu, Page 11)

Syllabus

Mains: GS Paper II polity and governance

Theme

Leader of the Opposition

Highlights

Context

With the formation of the 17th Lok Sabha, the question of a formally recognised Opposition party and Leader of the Opposition (LoP) of the Lok Sabha under the Salary and Allowances of Leaders of Opposition in Parliament Act, 1977, will arise. The Act extends to LoPs in the Lok Sabha and the Rajya Sabha.

Hereby discussing the historical evolution and conditions for appointment of LoP, their duties and recommendations for establishment of strong democracy with the help of opposition party.

What is Leader of Opposition?

Opposition party and Leader of the Opposition (LoP) of the Lok Sabha is appointed under the Salary and Allowances of Leaders of Opposition in Parliament Act, 1977.

In order to get the designation as the Opposition party, the party must have secured at least 10% of the total number of seats in the parliament. It is important to note that the single party and not an alliance must meet the 10% seat criteria in this regard.

The Act extends to LoPs in the Lok Sabha and the Rajya Sabha the same official status, allowances and perks that are admissible to Cabinet Ministers.

In the case of the Lok Sabha, this is subject to recognition of the leader by the Speaker.

A party might not be able to form the government at the center because of the lack of majority, but that doesn't take away the responsibility of acting as a watchdog of the ruling party. For a healthy Parliamentary democracy it is always considered essential that there should be a strong opposition, which should always be in a position to saddle itself in authority.

The incumbent should offer constructive criticism of government policies. He/she has to ensure that House proceeds expeditiously and holds adequate debate on pressing issues.

Historical Evolution of Leader of Opposition

The first officially designated Opposition party in Parliament emerged from the break-up of the all-dominant Congress party in power. In 1969, when Indira Gandhi was the Prime Minister, the Congress split to form the Indian National Congress (Requisitionists) and the Indian National Congress (Organisation). The Leader of INC(O), Ram Subhag Singh, became the first person to be formally recognised as LoP in the Lok Sabha.

In the 6th Lok Sabha, the Congress sat in the Opposition. Following splits in the Congress as well as the Janata Party, Yashwantrao B. Chavan, C.M. Stephen and Jagjivan Ram were successive LoPs.

Until 1977, there were no emoluments and perks attached to the position of LoP. There is no provision in the Constitution or even in the Lok Sabha Rules of Procedure in regard to the recognition of the LoP. Right from the first Lok Sabha, the practice has been to recognise the leader of the largest party in Opposition as the LoP provided that party has a strength that is enough to constitute the quorum for a sitting of the House, or one-tenth of the total membership of the House — at present that comes to 55 members.

From the 9th to the 15th Lok Sabhas, since the requirement of having a minimum strength of 55 members was fulfilled, the Lok Sabha had duly recognised Opposition parties and LoPs, including Rajiv Gandhi, L.K. Advani, Atal Bihari Vajpayee, P.V. Narasimha Rao, Sharad Pawar, Sonia Gandhi and Sushma Swaraj.

The 1977 Act defines LoP as that member of the House who is the "Leader in that House of the party in opposition to the Government having the greatest numerical strength and recognised as such by the Chairman of the Council of States or the Speaker of the House of the People, as the case may be."

The Speaker's decisions in this regard have so far been determined by Direction 121(c) which laid down one of the conditions for recognition of party or group as having "at least a strength equal to the quorum fixed to constitute a sitting of the House, that is one-tenth of the total number of members of the House".

The Leaders and Chief Whips of Recognised Parties and Groups in Parliament (Facilities) Act, 1998 also refers to a recognised party in the Lok Sabha as a party that has not less than 55 members.

Speaker's discretion

Since there is no constitutional provision, the 1977 law does not provide for the requirement of 55 members as an essential pre-requisite. It depends on the Speaker's directions and discretion.

Recommendations for improvement

In order to get the designation as the Opposition party, the party must have secured at least 10% of the total number of seats in the parliament.

Thus the "party" should be replaced 'party or pre-poll alliance'.

Pre-poll alliances have credibility and legitimacy the President and Governors while deciding on who