Daily Current affairs 14 NOVEMBER 2018
UPSC - Daily Current Affair
Indian Ocean Naval Symposium (IONS)
What to study?
For Prelims and Mains: IONS- key facts, objectives and significance.
Context: The 10th anniversary celebrations of the Indian Ocean Naval Symposium (IONS) is being held in Kochi.
The commemorative Special Cover of IONS 10th Anniversary celebrations depicts a map of the Indian Ocean and littoral countries of the IOR, signifying the geopolitical importance of the region.
About IONS:
IONS, the 21st century's first significant international maritime security initiative launched in February 2008, provides a forum for discussion of regional maritime issues and promotes friendly relationships among member nations. It presently has 24 members and eight observer navies.

It is a voluntary initiative that seeks to increase maritime co-operation among navies of the littoral states of the Indian Ocean Region by providing an open and inclusive forum for discussion of regionally relevant maritime issues and, in the process, endeavors to generate a flow of information between naval professionals that would lead to common understanding and possibly agreements on the way ahead.

Under the charter of business adopted in 2014, the grouping has working groups on Humanitarian Assistance and Disaster Relief (HADR), Information Security and Interoperability (IS&I) and anti-piracy now renamed as maritime security.
Sources: pib.
Wildlife and Bird Sanctuary in news: Point Calimere
In news:
Point Calimere Wildlife and Bird Sanctuary is a protected area in Tamil Nadu.

The sanctuary was created in 1967 for conservation of the near threatened blackbuck antelope, an endemic mammal species of India. It is famous for large congregations of waterbirds,

especially greater flamingos.

This sanctuary is an area of high biodiversity, with many unique species of animals and birds.

The flagship species of the sanctuary is the near threatened blackbuck antelope, one of the four antelope species in India (Chinkara, Chausingha and Nilgai being the other three) and the most numerous large animal in the sanctuary.

This

site has recorded the second largest congregation of migratory waterbirds in India, with a peak population in excess of 100,000, representing 103 species

.
Concerns:
Major threats to the natural biodiversity and ecological balance of the sanctuary are:

loss of habitat for waterbirds, soil and water salinisation by adjacent salt pans, spread of the invasive Prosopis juliflora, cattle grazing and scarcity of fresh water.

Th

e pH and salinity of the waters exceeded permissible limits

for ecologically sensitive zones.
The wildlife sanctuary comprises

sandy coastal, saline swamps and thorn scrub forests around the backwater. Though it is a protected area and a Ramsar site, chemical companies and small-scale shrimp farms around the wetland have started to pose a threat to the biodiversity and ecosystem of the sanctuary.
Miscellaneous:
F1H2O power boat race : : in River Krishna in Amaravati (Andhra Pradesh)

Agricultural Marketing and Farm Friendly Reforms Index : : This index is brought out by NITI Aayog. It rates States on the basis of their performance in agricultural marketing, land and governance reforms.

Ease of Doing Agri-Business Index : : Now, Centre to roll out a new Ease of Doing Agri-Business Index which will rank the States on the basis of their performance in encouraging agri-business, especially with regard to marketing, land and governance reforms and also based on their investment in agriculture, increased productivity, reduction of input costs, and risk mitigation measures. (The proposed index has a wider ambit)

National body set up to study rare form of diabetes : : A National Monogenic Diabetes Study Group has been formed to identify cases of monogenic diabetes across the country.

'Mission Venus' : : Indian Space Research Organisation (ISRO) plans to study planet VENUS. The Venus voyage — if approved — would be ISRO's third interplanetary dash. Venus mission would be comparable to the phenomenally popular MOM in terms of its the orbit and the cost.
Pradhan Mantri Fasal Bima Yojana (PMFBY): Crop Insurance Scheme
Part of: GS Prelims and Mains II and III – Government welfare schemes and policies; Farmers' issue; Social security schemes
In news:
Pradhan Mantri Fasal Bima Yojana (PMFBY) was launched in April 2016, with the aim of bringing 50 per cent of the country's farmers under insurance cover in three years.
However, the scheme has not been received well by farmer associations.

More than 84 lakh farmers or around 15% of the total farmers who were insured in the first year of PMFBY (in 2016-17) withdrew themselves from the scheme in 2017-18.

There are many reasons for this. One, while loanee farmers get mandatorily enrolled in the scheme, there is not enough effort taken to cover the non-loanee farmers.

It is alleged that the crop insurance scheme is benefiting the private insurance companies in the name of farmers.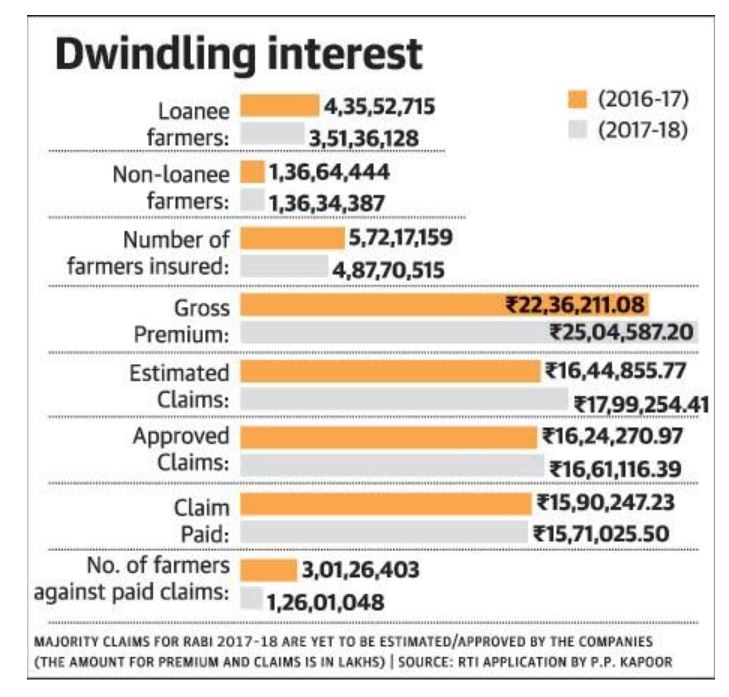 Pic: https://d39gegkjaqduz9.cloudfront.net/TH/2018/11/14/DEL/Delhi/TH/5_06/94ef5522_2523744_101_mr.jpg
Background:
Pradhan Mantri Fasal Bima Yojana (PMFBY) was launched in April 2016

Government scraped down the earlier insurance schemes viz. Modified National Agricultural Insurance Scheme (MNAIS), Weather-based Crop Insurance scheme and the National Agriculture Insurance Scheme (NAIS) and made PMFBY the only flagship scheme for agricultural insurance in India.

The scheme was launched with the aim of bringing 50 per cent of the country's farmers under insurance cover in three years.
Key Features of Scheme
Under this scheme, farmers need to pay uniform premium of only 2% for all Kharif crops and 1.5% for all Rabi crops.

In case of annual commercial and horticultural crops, farmers have to pay premium of only 5%.

The premium rates to be paid by farmers are very low and balance premium will be paid by Government.

Moreover, there is no upper limit on Government subsidy, so farmers will get claim against full sum insured without any reduction.

Earlier, there was a provision of capping the premium rate which resulted in low claims being paid to farmers. This capping was done to limit Government outgo on the premium subsidy. This capping has now been removed and farmers will get claim against full sum insured without any reduction.

The use of technology will be encouraged to a great extent. Smart phones will be used to capture and upload data of crop cutting to reduce the delays in claim payment to farmers. Remote sensing will be used to reduce the number of crop cutting experiments.

PMFBY is a replacement scheme of NAIS / MNAIS, there will be exemption from Service Tax liability of all the services involved in the implementation of the scheme. It is estimated that the new scheme will ensure about 75-80 per cent of subsidy for the farmers in insurance premium.
Objectives:
To provide insurance coverage and financial support to the farmers in the event of failure of any of the notified crop as a result of natural calamities, pests & diseases.

To stabilise the income of farmers to ensure their continuance in farming.

To encourage farmers to adopt innovative and modern agricultural practices.

To ensure flow of credit to the agriculture sector.
[op-ed snap] The promise of fintech revolution
POSTED ONNOVEMBER 14, 2018 | LIVE MINT
Note4students
Mains Paper 3: Science & Technology | developments & their applications & effects in everyday life
From the UPSC perspective, the following things are important:
Prelims level: Bali Fintech agenda
Mains level: Issues being faced by fintech sector and future prospects
---
Context
Bali Fintech Agenda
The recent I

nternational Monetary Fund/World Bank annual meetings marked the launch of the Bali Fintech Agenda

It is a set of 12 policy recommendations aimed at better harnessing the benefits and opportunities of rapid advances in financial technology

The Bali Agenda sets out a roadmap to be used by national authorities as a reference point for policy design and implementation

It also highlights the importance of managing risks
Digital banking a boon
The innovations spurred by digital breakthroughs are starting to revolutionize the availability of financial services, which is sorely needed, with 1.7 billion worldwide unbanked

The spread of formal banking has been constrained by the cost of physically reaching people in rural and remote areas, as well as the economics of servicing low-income populations, informal sectors and small- and medium-sized enterprises

In this regard, fintech has the potential to broaden the reach of formal financial services, sharply lower costs and spur efficiency gains

The resulting income and employment gains and poverty reduction should help bring more inclusive growth in support of the UN's 2030 Agenda for Sustainable Development
Developments in the fintech sector
The technology drivers of the fintech revolution are multifaceted

The private sector-led development of telecom infrastructure and falling costs are facilitating the greater use of smartphones as well as broadband internet services

Advances in cryptography and biometrics bolstering security and customer-identification are also powerful drivers, as are distributed computing and the use of big data and machine learning

The promise of fintech is epitomized in the wave of innovation in payments, clearing and settlement, offering both the banked and unbanked cheaper and faster services, besides powering e-commerce
Impact of these developments
As a result, financial inclusion can fundamentally reshape the lives of people and have a hugely positive economic and social impact

Another positive spillover comes from governments benefitting from reduced leakages and better targeting of public services, while an expanding tax base through improved compliance allows greater resource-generation for public investment
Associated risks of fintech
Fintech tends to be lightly regulated or unregulated in some jurisdictions and soundness and stability are concerns

Payments and e-money operators use essentially private money, which carries credit and settlement risks

Broader financial stability questions arise as fintech expands from a low base and linkages with banks grow

There are increasing concerns associated with data privacy, data security and money laundering

Cryptocurrencies raise issues related to excessive price volatility, lack of investor, illicit activities, and regulatory arbitrage and contagion

Other fintech risks relate to monetary policy transmission, financial safety nets, lender-of-last-resort and questions regarding financial crisis management and resolution
Required interventions in the sector
The risks call for an appropriate supervisory and regulatory approach at the country level, backed by international cooperation to address cross-border concerns

Policy needs to strike the right balance between not stifling innovation while guarding against financial stability risks

Regulatory sandboxes, incubators and accelerators can be used to test new products and technologies, but bringing fintech under strengthened, effective and unified supervisory oversight is a priority

Regulation/licensing and risk management should be based on activity rather than the type of institution for a level playing field for financial service providers

Appropriate rules also need to be set for data protection, privacy and technology, along with cybersecurity protection and reporting standards
Bali agenda a guiding light
The promise and concerns are set out in the Bali Agenda, which strikes the right balance and provides a useful framework for policymakers

The Bali Agenda also correctly sees a role for central banks to issue digital currency, and expanding access to and improving the resilience of payments services

The issue of digital fiat currencies by central banks would help preserve their control and relevance as well as trust, interoperability, openness and security of payments and settlements systems, besides addressing concentration and competition concerns
Way forward for India
In India, planned reforms include overhauling payments system laws to foster competition, consumer protection, stability and resilience

Another reform is a digital fiat currency, under consideration by the RBI. Besides regulation, bridging the digital divide is a pressing issue for India

Whether to establish a separate regulator or keep the Reserve Bank of India (RBI) in charge, in line with usual global practice, is still under debate which should be resolved at the earliest
[op-ed snap] Not Burning Bright
POSTED ONNOVEMBER 14, 2018 | THE INDIAN EXPRESS
Note4students
Mains Paper 3: Environment | Conservation, environmental pollution and degradation, environmental impact assessment
From the UPSC perspective, the following things are important:
Prelims level: Project Tiger, NTCA
Mains level: Incraesing instances of Man-animal conflicts in India and what can be done to avoid such situations in future
---
Context
Human-Tiger conflicts on the rise
Tigers were subjected to targeted killings in two rich landscapes — Yavatmal (Maharashtra) and Dudhwa (Uttar Pradesh)

The big cats were victims of the human-tiger interface conflict
Conflicts a cause of concern
India is in a leadership position on the tiger front with almost 70 per cent of the global tiger population

We pioneered tiger conservation with Project Tiger and by conserving 2.4 per cent of our geographical area as tiger reserves

Such conflict situations raise questions on India's successes
Reasons for the conflict
Our tiger reserves, n

ational parks and sanctuaries exist only as islets i

n a vast sea of human, cattle and unsustainable land use

The stakeholders are many in this heterogeneous mosaic, from primary (local people) to secondary (government departments) and tertiary (business groups, semi-urbanscape)

Urbanisation and growth agendas alter landscape dynamics,

which has a cascading effect on the ecological dynamics of wildlife

This results in ecological dislocation of sorts, wherein endangered wild animals like tigers either cause distress or land themselves in trouble

Most of India's

tiger states have practically lost their habitat value

owing to excessive biotic pressure

Consequently, agriculture and cash crops beyond protected areas readily lure wild pigs and other preys, which in turn lure big cats

The

inevitable outcome is "conflict of interface" between wildlife and humans,

which cause distress to people

This "interface" is further influenced by urbanisation, rail and road transport infrastructure and intensive operations like mining or special economic zones — part of the growth agenda in any developing country
Outcome of the encroachment by wild animals
Once wild animals earn a pest value, they get trapped in snares or succumb to revenge or avoidance killings

This is more often than not through a silent method of poisoning using pesticides
Steps to avoid tiger killings
The human-wildlife interface is here to stay

While there can be

no "co-existence" with tigers or elephants, a "co-occurrence" agenda with a proactive management

control is available
The National Tiger Conservation Authority

(NTCA) has brought out several Standard Operating Procedures (SOPs)

to deal with various challenges of the human-tiger interface

An incapacitated tiger or leopard has to be captured on priority

A prime animal straying close to human settlements requires active monitoring and translocation to suitable habitat

All this requires

24×7 monitoring using technology, management of corridors, building up the frontline capacity, creating village teams for reporting wild animal presence, and, an intersectoral portfolio at the landscape level akin to the "master plan"

envisaged for an eco-sensitive zone
Way forward
Human-tiger interface management demands proactive measures

One cannot allow a big cat to get habituated and then brutally eliminate it

It is a tragic end for our national animal, and a complete travesty of the responsibility reposed on foresters and wildlife experts
[op-ed snap] Four corners: on the Quad's agenda
POSTED ONNOVEMBER 14, 2018 | THE HINDU
Note4students
Mains Paper 2: IR | Bilateral, regional & global groupings & agreements involving India &/or affecting India's interests
From the UPSC perspective, the following things are important:
Prelims level: Quad grouping, East Asia Summit, RCEP
Mains level: The informality of Quad arrangement and its importance in present scenario
---
Context
Quad meeting
Officials from the 'Quadrilateral' grouping of

India, Australia, Japan and the U.S. are scheduled to meet in Singapore

Their challenge will be to accurately describe their common agenda

During this round, the four countries are expected to discuss infrastructure projects they are working on and building humanitarian disaster response mechanisms

The four countries are expected to talk about regional developments, including elections in the Maldives, the collapse of the government in Sri Lanka and the latest developments in North Korea

With Quad talks being held on the sidelines of the East Asia summit, the Regional Comprehensive Economic Partnership summit and the ASEAN-India informal summit, discussions will include some of the overlapping issues among these groupings
Challenges for Quad
Despite the potential for cooperation, the Quad remains a mechanism without a defined strategic mission

Even a common definition of the geographical area encompassed has yet to be found

In 2007, when the grouping was first formed following cooperation after the 2004 tsunami, the idea was to better coordinate maritime capabilities for disaster situations

When revived in 2017, the grouping seemed to have become a counter to China's growing inroads into the region

The entire focus on the Indo-Pacific makes the Quad a maritime, rather than land-based, grouping, raising questions whether the cooperation extends to the Asia-Pacific and Eurasian regions

Even on maritime exercises, there is a lack of concurrence
Bilateral cooperations
Over the past few months, India and Japan have announced they will combine efforts on a number of projects in South Asia, including bridges and roads in Bangladesh, an LNG facility in Sri Lanka and reconstruction projects in Myanmar's Rakhine province

Australia has unveiled an ambitious $2 billion project to fund infrastructure and build maritime and military infrastructure in the Pacific region, on which it is willing to cooperate with other Quad members
Differences between members
While Washington sees the U.S. and India as "bookends" of the Indo-Pacific, India and Japan have included the oceans up to Africa in their definition

India has not admitted Australia in the Malabar exercises with the U.S. and Japan, despite requests from Canberra, and has also resisted raising the level of talks from an official to the political level

India is the only member not in a treaty alliance with the other Quad countries
Way forward
Each member of grouping is committed to building a stronger Quadrilateral engagement

The outcome of the third round in Singapore will be judged by the ability of the group to issue a joint declaration, which eluded it in the first and second round
Foreign Policy Watch: India-APEC
[pib] Leadership for Academicians Program (LEAP) and Annual Refresher Programme In Teaching (ARPIT)
POSTED ONNOVEMBER 14, 2018 | PIB
Note4students
Mains Paper 2: Governance | Issues relating to development and management of Social Sector/Services relating to Health, Education, Human Resources.
From UPSC perspective, the following things are important:
Prelims level: LEAP and ARPIT Programmes
Mains level: Transforming quality of teaching in India
---
News
U

nion Ministry of Human Resource Development has launched two new initiatives LEAP and ARPIT.
Leadership for Academicians Programme (LEAP)
LEAP is a three weeks Flagship leadership development training programme (2 weeks domestic and one week foreign training) for second level academic functionaries in public funded higher education institutions.

The main objective is to prepare second tier academic heads who are potentially likely to assume leadership roles in the future.

The programme would provide senior faculty, with high academic credentials, the required leadership and managerial skills including skills of problem-solving, handling stress, team building work, conflict management.

It will also focus on developing communication skills, understanding and coping with the complexity and challenges of governance in HEIs, financial & general administration.

The implementation of LEAP Programme will be through 15 NIRF top ranked Indian Institutions.

The foreign Universities identified for the training are also within the top 100 in the world global rankings.
Annual Refresher Programme in Teaching (ARPIT)
ARPIT is a major and unique initiative of online professional development of 15 lakh higher education faculty using the MOOCs platform SWAYA

M.

For implementing ARPIT, 75 discipline-specific institutions have been identified and notified as National Resource Centres (NRCs) in the first phase.

They are tasked to prepare online training material with focus on latest developments in the discipline, new & emerging trends, pedagogical improvements and methodologies for transacting revised curriculum.

The course is a 40 hour module with 20 hours of video content and 20 hours of non-video content. They are offered in a highly flexible format and can be done at one's own pace and time.

There are built-in assessment exercises and activities as part of the academic progression in the course.

At the end of the course, there will be a terminal assessment which can be either online or a written examination.

All faculties who have successfully completed the online refresher course will be certified.
[pib] Global Digital Content Market 2018
POSTED ONNOVEMBER 14, 2018 | PIB
Note4students
Mains Paper 2: Governance | Government policies & interventions for development in various sectors & issues arising out of their design & implementation
From the UPSC perspective, the following things are important:
Prelims level: GDCM 2018
Mains level: Governance of broadcasts and creative industries in India
---
News
Global Digital Content Market (GDCM) 2018
The

Department of Industrial Policy and Promotion (DIPP is hosting a conference on Global Digital Content Market (GDCM) 2018 in New Delhi.

The conference will feature sessions on music, film, broadcasting and publishing, as well as collective management, emerging models and the implications for the market and policy makers.

India has been chosen as a host nation for the conference by World Intellectual Property Organization (WIPO) due to the strong creative industry in the country in films, music and media.

The focus for this year's conference is the Asia Pacific region.
Aim and Objectives
GDCM is a platform to discuss vital issues and enhance development of the digital and IP generating industries such as publishing, films, music, and gaming all of which are major contributors to the Indian GDP.

The aim of GDCM 2018 is to give industry stakeholders a platform to come together and discuss new avenues in the films, music, gaming and creative industry.

It shall also discuss points of challenge that is presented due to the changing creative landscape because of the disruption brought about by digital technologies.
---
Back2Basics
Digital Content Copyrights and India
GDCM 2018 is the second edition of the conference. The first conference was held in Geneva 2016.

It is

organised by World Intellectual Property Organization (WIPO), Geneva.

The aim of GDCM is to ensure that a creative artist continues to be protected and receives better remuneration on the digital platform.

India has recently approved accession to the WIPO Copyright Treaty (WCT) and WIPO Performances and Phonograms Treaty (WPPT) that has increased the coverage of protection of copyrights in the international IP regime.

This will bring the Indian creative industry under and international copyright system, secure distribution of their work and provide them with a level playing field.

India's rank in the Global Innovation Index 2018 has improved by 24 places from that of 2015 and now ranks 57th.

India is the top-ranked economy in Central and Southern Asia and has now outperformed on innovation relative to its GDP per capita for seven years in a row.
[pib] 2nd Startup India Investment Seminar in Beijing
POSTED ONNOVEMBER 14, 2018 | PIB
Note4students
Mains Paper 3: Economy | Development and Employment
From UPSC perspective, the following things are important:
Prelims level: Particulars of the seminar, Difference between VCs and Angel Investors
Mains level: Boosting the startup ecosystem in India
---
News
2nd Startup India Investment Seminar
Embassy of India in China in partnership with Startup India Association (SIA) and Venture Gurukool organized 2

nd

Startup India Investment Seminar in Beijing for fostering innovation and entrepreneurship among Indian youth.

The event was planned to expose Chinese VCs and investors to the promising Indian startups and also help Indian startups to reach out to the large Chinese investors for receiving investment for their companies.

Forty-two Indian entrepreneurs representing 20 Indian startups participated in the event and pitched before Chinese investors to make investments in their ventures.

More than 350 Chinese Venture Capital (VC) funds, angel investors participated in a day long pitching session and seminar.

A panel discussion was also organised to discuss effective strategy for Chinese VCs to enter the Indian startup market and share their experiences about the Indian startup ecosystem.
---
Back2Basics
Venture Capitalists
A venture capitalist is an investor who either provides capital to startup ventures or supports small companies that wish to expand but does not have access to equities markets.

Venture capitalists are willing to invest in such companies because they can earn a massive return on their investments if these companies are a success.
Angel Investors
An angel investor is an affluent individual who provides capital for a business start-up

, usually in exchange for convertible debt or ownership equity.

A small but increasing number of angel investors invest online through equity crowdfunding or organize themselves into angel groups or angel networks to share research and pool their investment capital, as well as to provide advice to their portfolio companies.
New index to check ease of doing agri-business
POSTED ONNOVEMBER 14, 2018 | THE HINDU
Note4students
Mains Paper 3: Agriculture | Issues related to direct and indirect farm subsidies and minimum support prices
From UPSC perspective, the following things are important:
Prelims level: Particulars of the Ease of Doing Agri-Business Index
Mains level: Read the attached story
---
News
Rewarding high-performing States
States may soon start receiving extra funding for the Agri Ministry's flagship schemes on the basis of their performance in encouraging agri-business

This is especially with regard to marketing, land and governance reforms.

An online dashboard to track State performances will be developed by the year-end, and a national level workshop to roll out the Index will be held in January 2019, according to the concept note's timelines.
Ease of Doing Agri-Business Index
The Centre expects to roll out a new Ease of Doing Agri-Business Index which will rank the States on the basis of such reforms, as well as their investment in agriculture, increased productivity, reduction of input costs, and risk mitigation measures.

The Agri Ministry will consider rewarding the higher performing States both in absolute and incremental terms by linking the performance with allocation from flexi funds made available in various flagship.

NITI Aayog already brings out a Agricultural Marketing and Farm Friendly Reforms Index, rating States on their implementation of such reforms.

In the initial edition of that Index in 2016, Maharashtra stood first in the rankings, followed by Gujarat.

The proposed index has a wider ambit, but the focus is still on reforms, with marketing reforms (25%) and governance and land reforms (20%) carrying almost half of the weight of the parameters in its scoring system.
Process-oriented Parameters
The

parameters are process-oriented

, and are meant to evolve as and when new reforms or initiatives are proposed, says the concept note.
As

agriculture is a State subject,

the success of policies and reform initiatives proposed at the Centre is dependent on implementation by the States.

To ensure that reform agenda of the government is implemented at a desired pace by all State governments, there is a need to develop a competitive spirit between the States.
Other Parameters: Soil health cards
Another major parameter which States will be rated on is their success in reducing the cost of farm inputs (20%) by distributing soil health cards and encouraging organic farming and micro-irrigation.

Risk mitigation measures such as crop and livestock insurance carry a 15% weightage, while increased productivity and investment in agriculture carry a 10% weight each.
Deny MSP to stubble burners: NGT
POSTED ONNOVEMBER 14, 2018 | THE HINDU
Note4students
Mains Paper 3: Environment | Conservation, environmental pollution and degradation, environmental impact assessment
From UPSC perspective, the following things are important:
Prelims level: Particulars of the NGT
Mains level: Immediate measures to improve air quality in the concerned northern states.
---
News
Disincentives for Polluters
Stating that State governments had failed to curb stubble burning, the National Green Tribunal (NGT) on summoned the Chief Secretaries of Delhi, Punjab, Haryana and Uttar Pradesh.

During the hearing, it was suggested to the Bench that incentives could be provided to those who are not burning the stubble and disincentives for those who continue the practice.

The fact remains that the problem of stubble burning has not been fully tackled and the adverse impacts on the air quality and consequent impacts on the citizen's health and lives are undisputed said NGT.
A Lasting Solution
The problem is required to be resolved by taking all such measures as are possible in the interest of public health and environment protection.

NGT made it clear that the existing MSP Scheme must be interpreted to enable the concerned States to wholly or partly deny the benefit for those who continue to burn the crop residue.

NGT has specified very short time on account of the urgency of the situation with regard to deteriorating air quality prevailing in NCT Delhi and adjoining areas.
---
Back2Basics
National Green Tribunal
National Green Tribunal Act, 2010 (NGT) is an Act of the Parliament of India which enables creation of a special tribunal to handle the expeditious disposal of the cases pertaining to environmental issues

It draws inspiration from the India's constitutional provision of Article 21, which assures the citizens of India the right to a healthy environment

The National Green Tribunal has been established on 18.10.2010 under the National Green Tribunal Act 2010 for effective and expeditious disposal of cases relating to environmental protection and conservation of forests and other natural resources.

It includes enforcement of any legal right relating to environment and giving relief and compensation for damages to persons and property and for matters connected therewith or incidental thereto.

The NGT has not been vested with powers to hear any matter relating to the Wildlife (Protection) Act, 1972, the Indian Forest Act, 1927 and various laws enacted by States relating to forests, tree preservation etc.
Report sees climate risk from rise in Indian AC units
POSTED ONNOVEMBER 14, 2018 | THE HINDU
Note4studnets
Mains Paper 3: Environment | Conservation, environmental pollution and degradation, environmental impact assessment
From UPSC perspective, the following things are important: